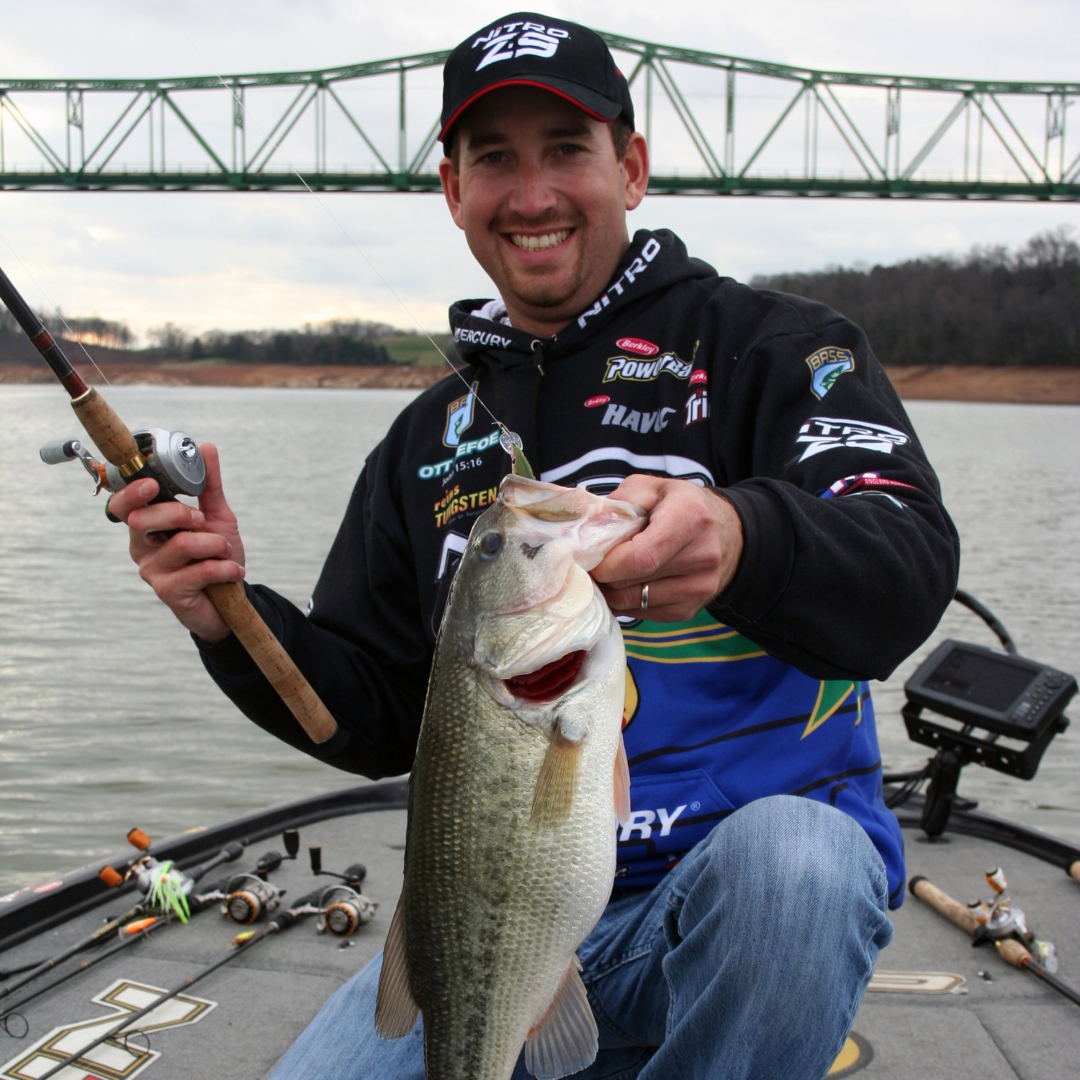 Jefferson County is blessed to have two of the country's most prolific and scenic fisheries in Douglas Lake and Cherokee Lake. Avid anglers from around the country – and, indeed, from around the world – travel long distances to compete on these two incredible fisheries, as well as just to enjoy world-class bass fishing.
While both lakes are exceptional and just a short drive apart, they are quite different in many respects, says Knoxville's Ott DeFoe, one of the best tournament competitors in the country, with a stack of trophies to his credit.
"Douglas is fed by three significant rivers," he explained. "The French Broad, the Nolichucky, and the Pigeon, as well as several large feeder creeks. Because of that, whenever there are influxes of rain, the water level can change significantly. It can vary about 40 feet from summer pool to winter pool. Cherokee, on the other hand, is fed by the Holston River, and there are dams upstream, while Douglas is pure headwaters. That means Cherokee is less prone to runoff and because it's a little bit bigger than Douglas, it's not as prone to coming up quick. The same rain that might raise Douglas 20 feet, Cherokee will only come up 2."
That's not the only difference. The makeup of the biomass within the ecosystems also vary substantially. DeFoe, who is only 33 years old, said that when he started fishing "smallmouth bass were unheard of" in Douglas, but in the last 10 years, and the last 5 in particular, smallmouths are coming on strong. No major tournament wins can be credited entirely to the brown bass, but they can often make up a 17- or 18-pound limit, and sometimes will be part of a mixed-species winning catch.
Cherokee, on the other hand, has always had a solid population of smallmouths, and DeFoe said that "most tournaments are won in the cooler months primarily on the smallmouth bite" although he was quick to add that "there's a really good mix of both" largemouths and smallmouths.
The baitfish are also somewhat different. The Douglas bass feed heavily on threadfin and gizzard shad, which those in Cherokee add alewives into the mix. That latter baitfish tends to stay deep, and the schools move around a lot – and the bass go with them. Those movements are also influenced by the lakes' topographies. Cherokee has many more islands, and a lot of high spots and ridges, while Douglas is more of a traditional river, starting at the bank, getting deep in the middle, and then shallowing up at the opposite bank. 
So how should you fish these two incredible impoundments as the bass move out of their winter haunts and start to think about moving shallower to spawn?
"On Douglas, I'd focus on the extreme lower end of the lake," DeFoe said. "From the dam, up to Dandridge." He's looking not only for clear water – at least 2 to 3 feet of visibility, but also deep water. That influences his lure selections. He'd fish a blade bait or the recently-popularized "Damiki Rig" vertically for fish that he can see on his electronics. Alternatively, if the fish are shallower or suspended, he'd look to more horizontal presentations like an Umbrella Rig, a jerkbait or a tight-wobbling Shad Rap crankbait.
"I'd use my electronics to find the shad," he explained. "They're not hard to find and you'll typically find fish grouped up 15 to 30 feet deep off points and breaks, and next to channel swings." For the more aggressive lures like the jerkbait and the Umbrella Rig, he'd try to focus on areas that have a breeze, most often main lake points. 
While Douglas does have some spawning pockets, and some fish (especially largemouths) will bed in them starting around mid-April, De Foe said that the smallmouths spawn "surprisingly close to or on the main lake." If the water comes up quickly, they'll set up on flooded wood, but otherwise gravel, and slate rock banks are the preferred spawning substrates.
While the Damiki Rig became nationally famous as the result of a major tournament on Cherokee, DeFoe believes that it's "not the only deal going on" and "that the heyday of that has come and gone." It will still work for the reasons that it previously worked, but it will likely never again be quite as dominant now that the cat's out of the bag.
Instead, he prefers to use flat-sided and tight-wobbling crankbaits like a Shad Rap, a Wiggle Wart or a Rapala DT6. To that mix he'll often add a jerkbait, and he also likes to swim a grub for Cherokee's many massive smallmouths. In his experience the Umbrella Rig does not work as well on Cherokee as it does on Douglas, but a single swimbait can be remarkably effective. He's also fond of swimming a hair jig tied in crawfish colors. "You don't really drag it," he explained. "You kind of swim it just up off the bottom slower than you'd retrieve a swimbait."
"Early in the season I'm probably going to fish the lower half of the lake," he explained. "From the dam, up to note quite German Creek, and if there's any wind whatsoever I'm always going to fish in it. That's more important on Cherokee than on Douglas."
 On sunny days, he concentrates his efforts on boulders, while on cloudy days he'll key on a mix of boulders and gravel. Either way, he'll definitely hit a number of points.
 "You could fish Cherokee 360 days a year and only target points and you're going to do just fine," he said. "It's a point hopper lake."
 For the angler who has put a good limit in the boat and wants to add a kicker, one way to enhance your chances is to switch gears, tie on a spinnerbait and head for dirty water.
"I know it's against the grain for wintertime fishing and you're not going to get many bites, but on both lakes that's the way to catch a big largemouth," he said. "There aren't many 6-pound smallmouths, although there are some fives, so the biggest fish are almost always largemouths."
The toughest part of all may be choosing which lake to fish. "When one is fishing good, the other probably is as well," said DeFoe. "Douglas may be a little bit better day in, day out, but Cherokee is typically better on the nasty weather days."
No matter which of these great fisheries you plan to conquer, be sure to download the TVA Lake Info App. "It's a great resource, covering both lakes well," said DeFoe. "It gives you inflow, outflow and the lake level, among other thing." That'll make your prespawn outings go much more smoothly and cut down the search time for the motherlode of big Jefferson County bass.