SUMMERTIME IS STILL FISHING SEASON…
Summer-time and bass fishing go together like peas and carrots. Everyone has a first memory of bass fishing, and it seems it was usually on a dock with their Dad or Grandpa in the Summer! Although this can be some of the toughest fishing of the year, there are still plenty of fish to be caught. Bass seem to be much more scattered this time of year than they were a month ago with both Cherokee and Douglas being near full pool. This means there is plenty of shallow cover in the water for the bass to spread out on. With water temperatures in the upper 80's on both fisheries, bass are going to be in deep water or on any cover that provides shade. In this article, we will discuss where to find and how to catch these Jefferson County summer-time bass!
DOUGLAS LAKE
Douglas Lake has still been producing many solid limits of bass in local tournaments. 12 pounds seems to be an average bag in July with 15-18 pounds winning on any given day. The deep fish that Douglas is known for have gotten much harder to locate recently. There are still plenty of fish deep, but it requires more searching to find them. The good news is that a lot of the fish that were holding in 30-40 feet have moved into the 17-22 foot of water range. This is a much more manageable depth to target these fish. The problem is that you will often find these bass suspended off of the bottom (not always!). These fish suspend due to fishing pressure, oxygen levels, and a lack of current. While these fish are harder to target than fish positioned on the bottom, they can often be some of the biggest fish in the lake! Working a flutter spoon, swimbait, or jigging spoon through a group of these fish are my favorite ways to boat these bass.
Making sure your lure is at the correct depth range is essential, so make sure to utilize your electronics and know how fast your bait sinks. Although this is a very technical approach to catching bass, there are many fish that can be caught up shallow on cover. This can be flooded willow bushes, laydowns on steeper banks, or even docks. The majority of these fish are eating bluegill, so green pumpkin jigs or soft plastics are major players. This shallow bite has been getting better week after week. In order to locate the most productive cover, it is important to pay attention to your surroundings. The presence of bluegill and baitfish can signal active areas. In addition, areas where the water temperature is slightly cooler typically hold bait and bass better than warmer water areas.
CHEROKEE LAKE 
Cherokee Lake can be approached a couple of different ways in the summertime. Tournament anglers are forced to target largemouth due to the TWRA-imposed one-per-person 18-inch smallmouth limit. With that being said, smallmouth can still be caught in abundance from the 25E bridge to the Dam. The best areas are points 15-25 feet deep with chunk rock or boulders. Typical smallmouth techniques are still producing, Z-Man Finesse TRDs, shad-style drop shot baits, or a finesse jig are sure-fire ways to get bit. One of the most overlooked aspects of smallmouth fishing on Cherokee Lake is line diameter. Line with a smaller diameter will always provide more bites, and I look to Seaguar Fluorocarbon for this need. Traditional 6-8 lb Red Label or InvizX is great, but their soon-to-be-released Gold Label leader line is unmatched. This line will be 18% thinner, but still 17% stronger than the same pound test in traditional lines! Largemouth on Cherokee Lake are very scattered. Fishing brush piles can produce quality bites during the summer. I have been having success fishing bluff banks with a jig recently. Largemouth action is the hottest above 25E bridge this time of year. Look for wood cover on these steep banks and fish it thoroughly! 
EVERYDAY IS A GOOD DAY TO FISH!
Use the techniques above to make sure your fishing action is as hot as the summer weather! Remember that summer-time fishing can require you to slow down, but that there are still big fish feeding! Be sure to tag @visitjeffersonco_tn on Instagram or @visitjefferson on Facebook with your fishing pictures.
All of the equipment needed to enjoy the quality fishing in Jefferson County can be found at the Bass Pro Shops in Kodak! If you'd like further information on the fishing in Jefferson County, feel free to contact me anytime- jsales@cn.edu  Thanks!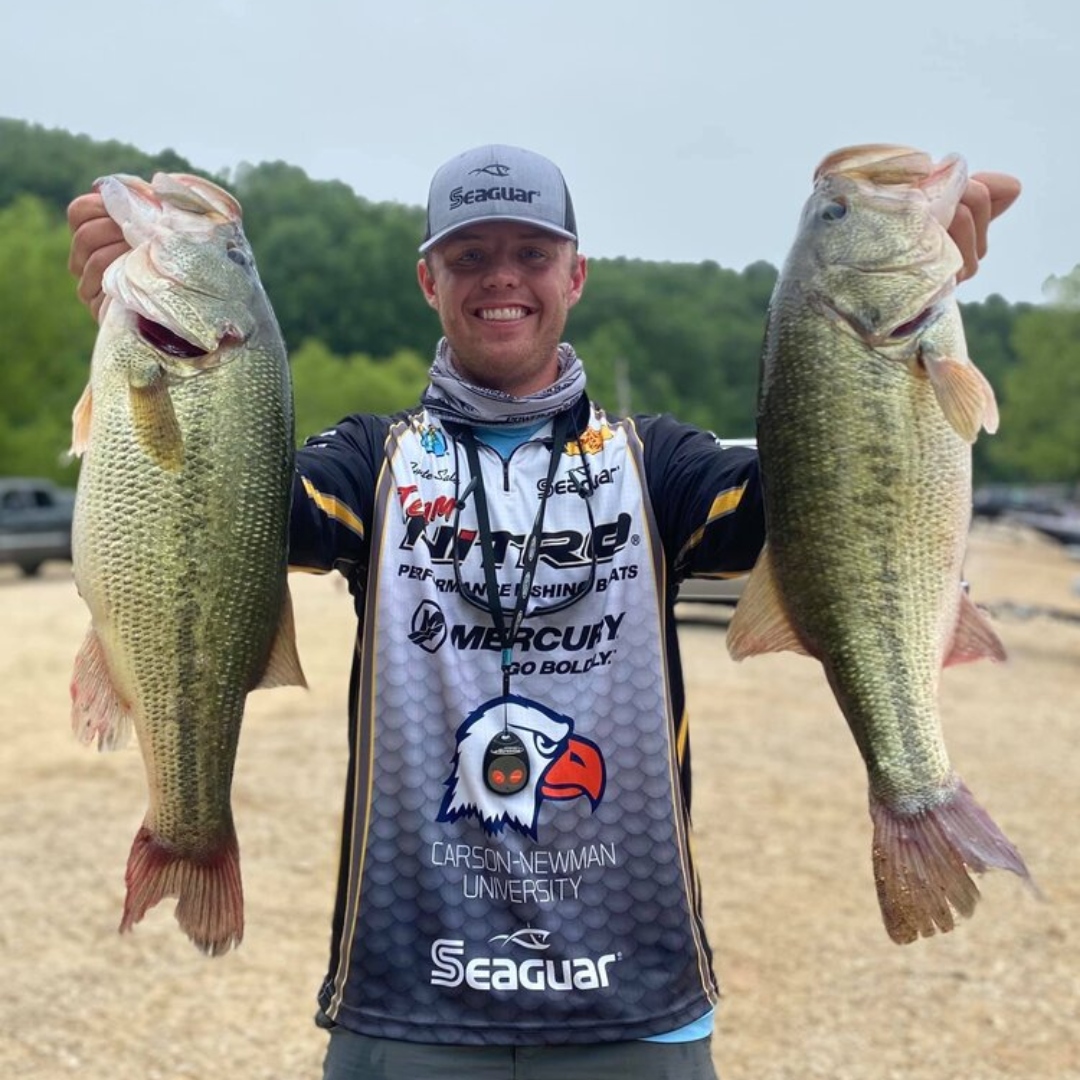 Hunter Sales is the Head Coach of the Carson-Newman University's Eagle Anglers, a Bassmaster Opens pro angler, and a representative of the Bass Pro Shops in Kodak. Hunter has a lifetime of experience fishing Cherokee and Douglas Lakes, and amassed tournament winnings in excess of $10,000 in 2019 on these lakes.