Spirit of Nations Powwow to Celebrate Native Voices
In recognition of the "Celebrate Native Voices" theme of the 2023 Spirit of Nations powwow, Jefferson County Mayor Mark Potts has issued a proclamation declaring Saturday, March 25th, as "Celebrate Native Voices Day" in Jefferson County. The powwow will be held at Jefferson County High School in Dandridge, TN.
Susan Price, Director of Field Experiences for the Education Department at Carson-Newman University, joined the mayor as the proclamation was signed. "Exposing our children to the history and culture of the people who lived, and continue to live, on this land opens their eyes to other people and cultures around them," she said. Price serves as a member of the board of directors for Indian Creek Productions, Inc., which sponsors the powwow.
Sherry Finchum, also on hand for the proclamation signing, is secretary and webmaster for Indian Creek Productions, Inc. As a former teacher and elementary curriculum supervisor for Jefferson County Schools, she understands the importance of hearing "Native voices" firsthand.
"This powwow will afford everyone the opportunity to do that in person. It will help guests understand the unique challenges and perspectives of Native peoples, Finchum said."  In addition to special demonstrations of traditional arts, such as basketry and beadwork, the powwow will feature American Indian arts and crafts for sale, Indian tacos, activities for children, competition powwow dancing, flute playing, a silent auction, American Indian craft demonstrations, a tipi display and a hoop dance performance.
Funding for the Spirit of Nations Powwow is provided in part by a grant from the Tennessee Arts Commission.
In conjunction with the powwow, the Tennessee Council for the Social Studies is hosting a teacher workshop entitled, "Let's All Speak". To register, go online to www.tnsocialstudies.org.
Jefferson County High School is located at 115 W. Dumplin Valley Road, Dandridge, TN, 37725.
Admission is $7 for adults and $2 for children. Veterans and active-duty military personnel are admitted free.
More information is available at www.indiancreekproductions.com or on the Indian Creek Productions Facebook page. Specific questions can be directed to indiancreekproductions@gmail.com.
Spirit of Nations Powwow to Feature Tipi Display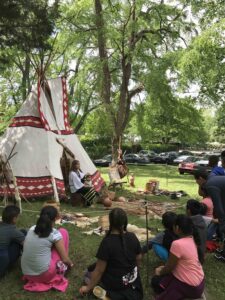 The Spirit of Nations Powwow, being held on the main campus of Jefferson County High School on Saturday, March 25th will feature a full-size tipi display.
Sandy Brown, cultural educator from Robbinsville, NC, will erect the 16-ft diameter tipi inside the entrance to the high school. Surrounding the tipi will be many items of material culture, such as buffalo hides and tipi chairs, that Brown will use to explain daily life on the Plains.
Brown's goal is to "teach the children of today the ways of yesterday." She is passionate about sharing Native American history and culture with younger generations. Her goals are to teach the true history, break down stereotypes, and help people learn more about contemporary issues faced by Native people. Joining Brown will be her daughter, Wahlalah, as a partner in the effort to improve the public's understanding of Native life.
Moving to the high school from the Patriot Academy, where the powwow has been held since 2015, allows more space for having a display such as this, said Dr. Mark Finchum, president of Indian Creek Productions, Inc., sponsors of the powwow.
"We will also be able to offer more parking, including more handicapped parking, for our guests this year," Dr. Finchum said. "Last year at Patriot Academy, the parking area was overflowing. Cars were parked all the way around the building."
The larger interior also means room for more demonstrators in the commons, more seating for the concessions area, a bigger dance arena, and space for more vendors. The gym seats more spectators and is designed to be more accommodating to anyone using a wheelchair.
In addition to a special focus on Plains Indian culture, the powwow will feature American Indian arts and crafts for sale, Indian tacos, activities for children, competition powwow dancing, flute playing, a silent auction, American Indian craft demonstrations, and a performance by world famous hoop dancer Eddie Swimmer.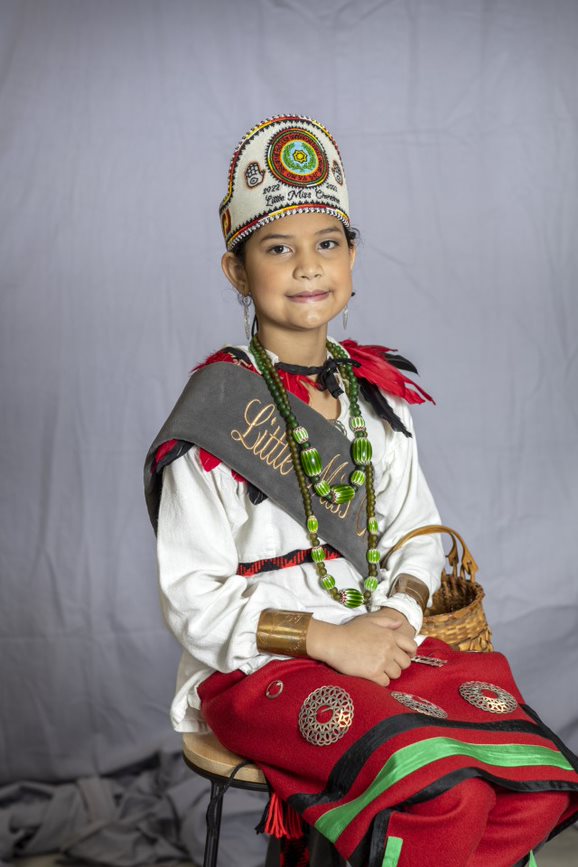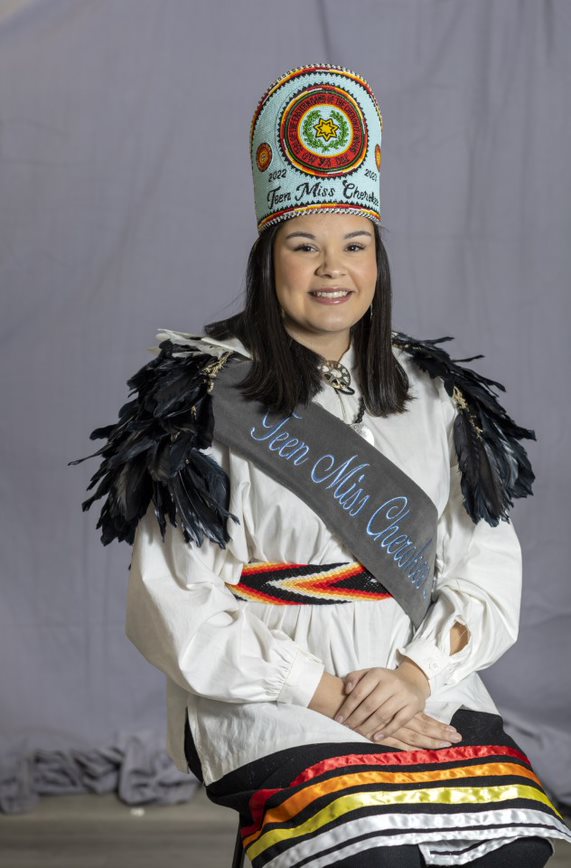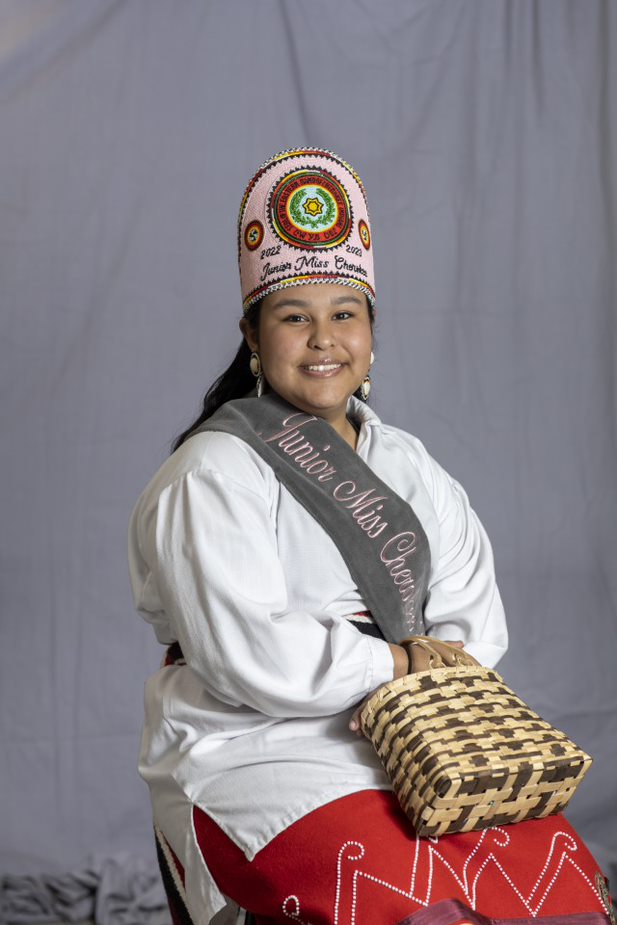 Cherokee "Royalty" to be Powwow Guests
Three young ladies chosen to represent the Eastern Band of Cherokee Indians will be special guests at the Spirit of Na ons Powwow on Saturday at Jefferson County High School in Dandridge.
Teen Miss Cherokee Cameron Jackson, Little Miss Cherokee Zarah Dawkins, and Junior Miss Cherokee Ava Walkings were chosen at the Cherokee Indian Fair last October.
These young ladies were scored on public speaking, tradi onal talent, and tradional dress by the EBCI Pageant Board. "The board's mission is to empower, educate, and cul vate future female leaders and to restore the matriarchal society values of our Tribe," said Keyonna Hornbuckle with the pageant board.