Sharpshooter, Congressman, Justice of the Peace, Militia Colonel, frontiersman, and defender of the Alamo, Davy Crockett "king of the wild frontier" is not only a national historic figure but also a personal hero to the people of Tennessee, where he was born and lived for much of his life. Davy Crockett was born to John and Rebecca (Hawkins) Crockett on August 17th, 1786 along the banks of the Nolichucky River in what is now Greene County, TN. While the family made several moves throughout East Tennessee they eventually settled in Jefferson County in 1795 where John opened a tavern on the road from Knoxville to Abingdon, Virginia.  The tavern property is now a museum situated in East Morristown, Hamblen County, but prior to the formation of Hamblen County in 1870, this was Jefferson County.
Young Davy Crockett in Jefferson County
Young Davy Crockett in Jefferson County received a very modest education and was a hard worker driven by the necessities of surviving frontier life. On several different occasions, Davy was indentured by his father to help pay down family debts. One memorable story derives from John Crockett hiring out David to herd cattle for a man named Jacob Siler, who attempted to detain him after the conclusion of the job.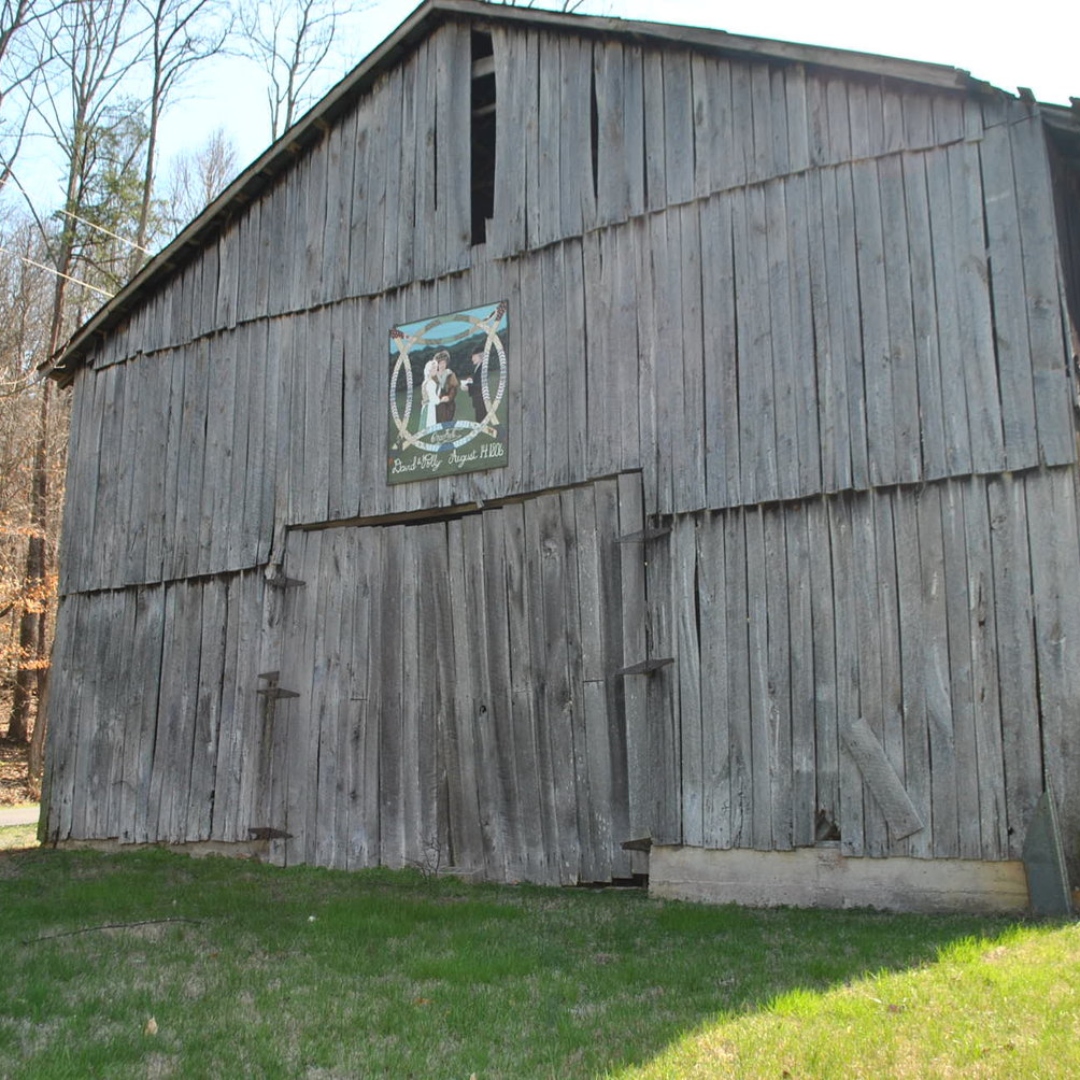 Having a different opinion, the boy escaped Siler's grasps by walking seven miles in knee-deep snow to return to his home. Not one for formal education, Crockett soon left school to become a day laborer and Wagoneer before returning home to work off $76 of debt incurred by his father.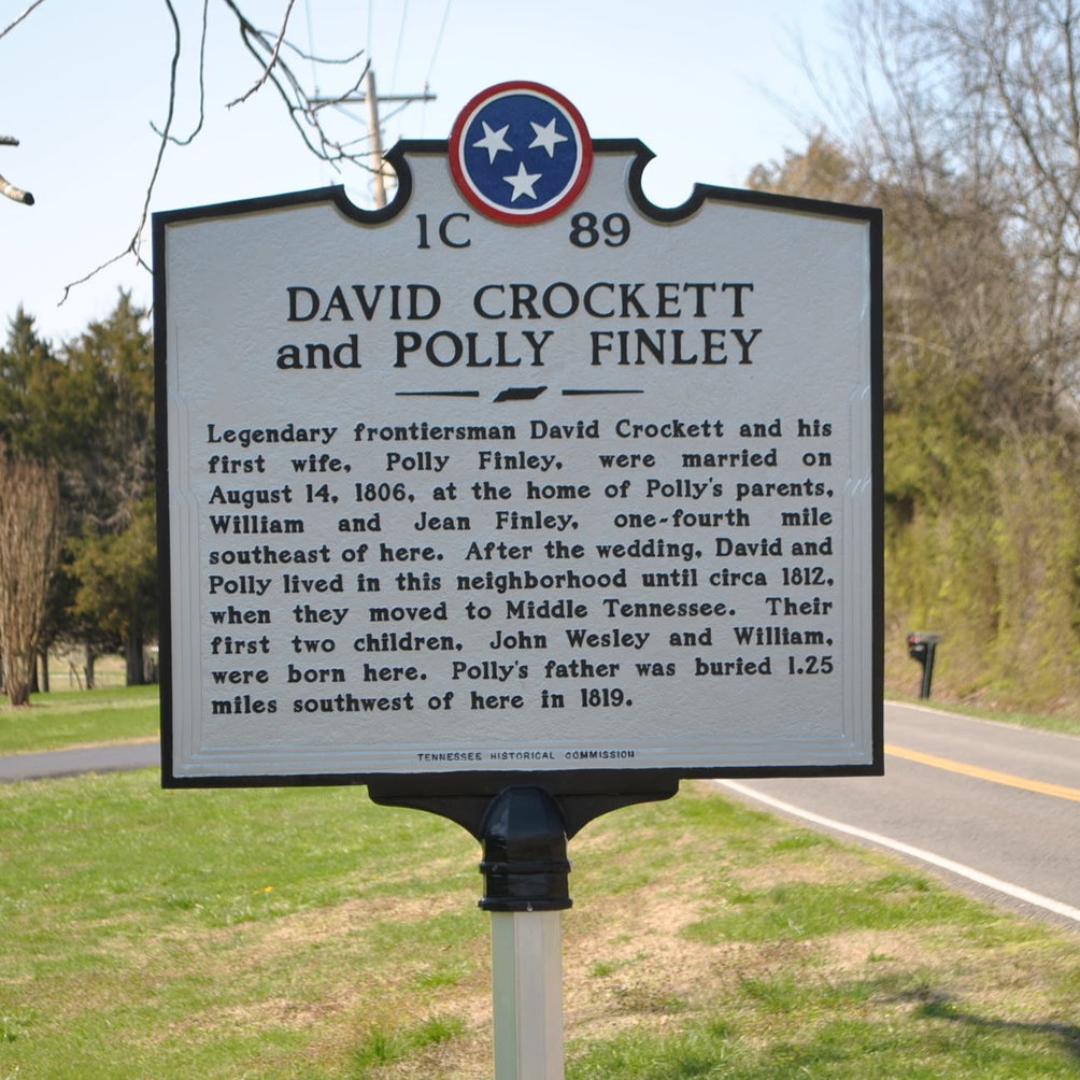 Davy Crockett's Jefferson County Marriage
In October of 1805, David Crockett, then 19 years old, had originally planned to marry Jefferson County resident Margaret Elder, however, this would not come to fruition. Instead, after taking out a marriage license, Crockett would later write in his autobiography that he was "jilted at the altar," but there is no mention of it being by Elder. If Crockett was jilted by Elder, it's likely Margaret suffered "cold feet" right before their marriage was finalized, which attributed to the local lore that Crockett was a less than a constant suitor.
Oddly enough, the unexecuted marriage license issued by the Jefferson County Court Clerk, Joseph Hamilton, would cause a multiple-year-long legal battle in 2011 between Jefferson County and an elderly Tampa, Florida woman who claimed that she was the rightful owner of the nearly discarded piece of history. The marriage license would eventually be returned to the Jefferson County Court House vaults after the case was brought before the Tennessee State Supreme Court.
Not to be dissuaded, Davy Crockett began courting Mary 'Polly' Finley, also from Jefferson County after meeting at a "reaping festival". David and Polly's marriage bond was issued a short time later on August 12th, 1806. The day after the wedding, the couple traveled from Finley Gap to Morristown to the Crockett Tavern to celebrate David's 20th birthday. David and Polly's marriage bond can now be viewed in its posterity at the Jefferson County Historical Museum, located in the Jefferson County Courthouse in Dandridge. The Tennessee Historical Commission would go on to erect a historical marker at Finley Gap immortalizing the legendary frontiersman's marriage location at Polly's parents' cabin.
David and Polly Crockett lived happily in Jefferson County until 1812 and would birth two boys John Wesley and William Crockett before moving to Lincoln County, and then to the Franklin Tennessee Area where he would establish his homestead known as Kentuck.
Davy Crockett Tourism Spots
Davy Crockett / Polly Finley Marriage Bond
The Jefferson County Historical Museum located in the Jefferson County Courthouse in Dandridge located on W. Main Street displays a copy of the Davy Crockett and Polly Finley marriage bond dated August 12, 1806.  The original bond is stored in a county vault.  Davy Crockett's formative years were spent in Jefferson County where he met and married Polly Finley of Finley Gap in Bays Mountain.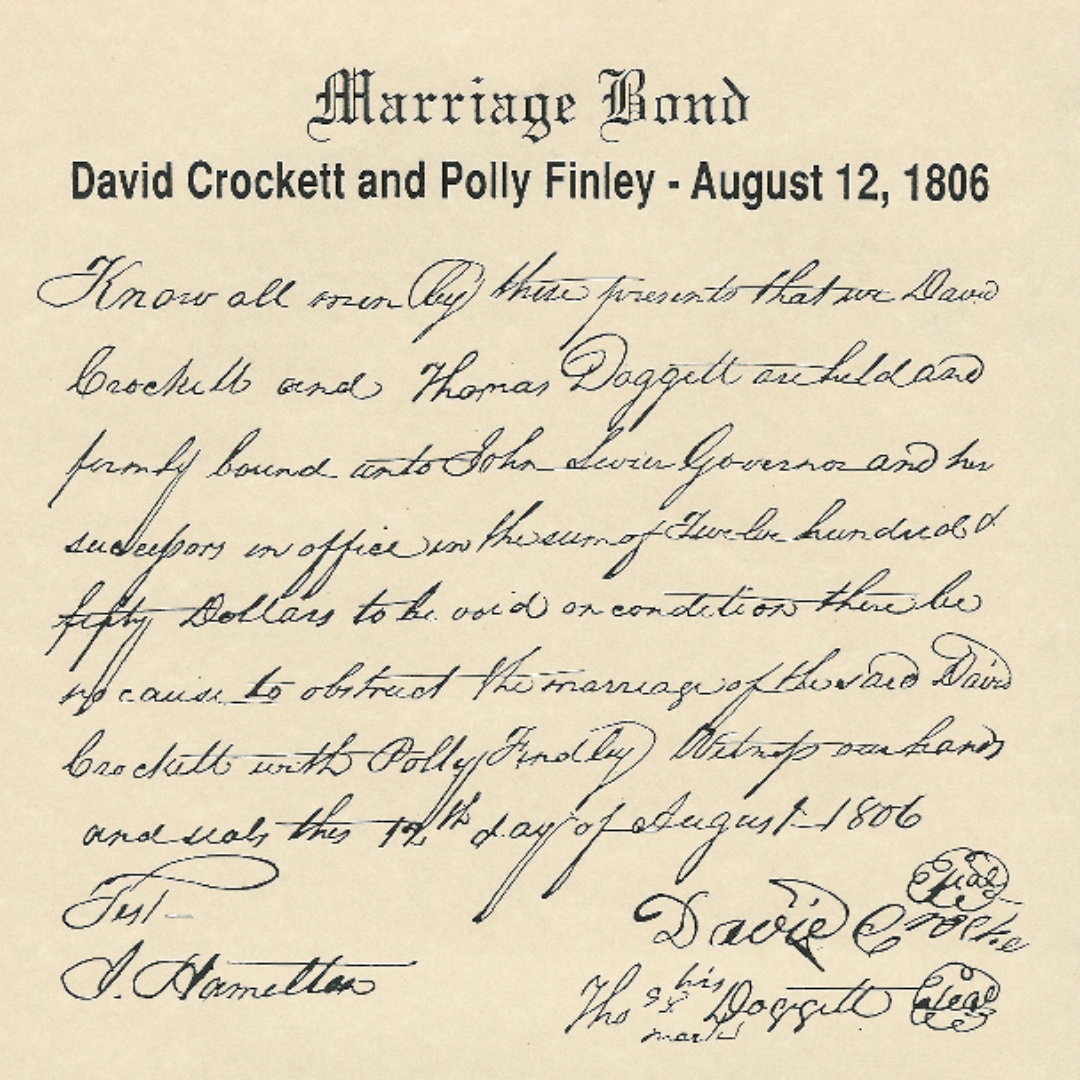 In those days a man was required to post a marriage bond prior to obtaining a marriage license. The bond was posted to assure the State that there was no lawful cause to prevent the marriage.
Davy Crockett's Long Rifle Replica
There is a replica of Davy Crockett's long rifle on display at the Jefferson County Historical Museum.  The original rifle is owned by Joseph Swann.  Swann a native of Maryville was told by his father Eugene, originally of Dandridge, that their ancestors lived on Long Creek and were neighbors of Davy Crockett when he lived there.   Eugene was told that his great-great grandfather, James McCuistion, ran a store and that Davy Crockett gave him his rifle in payment for money owed to him at the store in 1806.  It remained in the family for years, then in 1978 Joseph bought the rifle from a relative who had inherited it.
Tennessee Historical Commission marker at Finley Gap
Davy and Polly were married at the home of Polly's parents, William and Jean Finley, one-fourth mile southeast of Dumplin Valley Road.  After the wedding, Davy and Polly moved onto a rented farm in the neighborhood where their first two children were born, but by 1812 Crockett had grown restless and decided to pull up stakes and moved the family to Middle TN.   Polly's father was buried 1.25 miles southwest of the area in 1819.  The historical marker can be found on N. Chucky Pike between Jefferson City and I-81 Exit 4.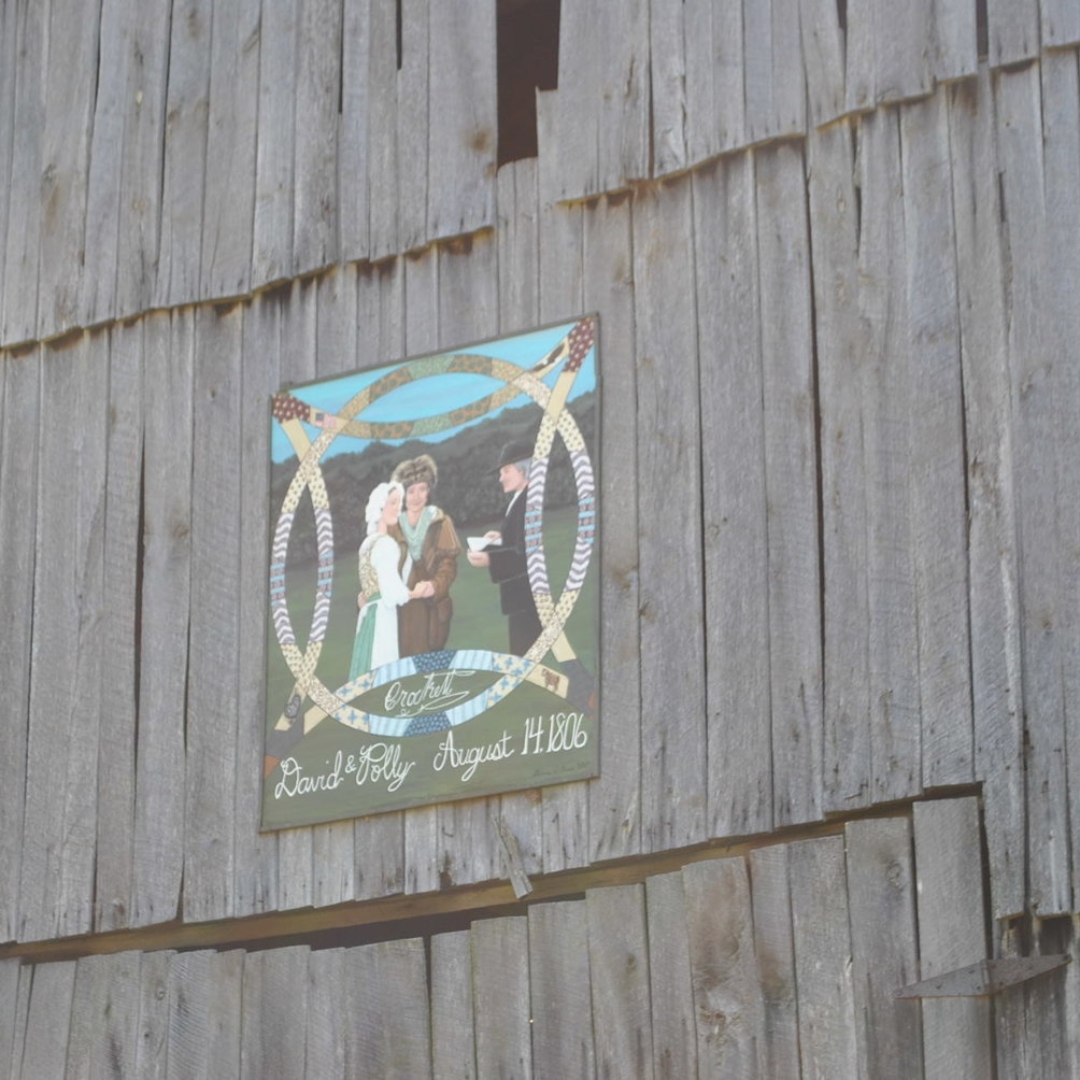 Be Sure You're Right, Then Go Ahead
In the same fashion as his early life, Davy Crockett would move on to do great things including, a successful military career under Andrew Jackson, a stint as a town commissioner of Lawrenceburg, becoming a Representative in the Tennessee legislature, and serving two terms in the United States House of Representatives before his death at the Alamo would forever solidify him in the tombs of history.
Tennessee holds a special place in its heart for David Crockett as he showed that anyone from even modest beginnings can go on to accomplish great things and to also be a steward of the people. Post-mortem, Crockett is on the most idolized historical figures in both Tennessee, as well as, Texas with numerous statues, monuments, and a park erected in both states in his honor. The US Postal service eventually launched a 5-cent stamp commemorating Crockett and Walt Disney would go on to immortalize Davy Crockett in a popular television series.
Special thanks to Jefferson County Historian, Bob Jarnagin, for all the information about Davy Crockett and his time in Jefferson County, Tennessee.
Jefferson County is rich with history and historical sites such as the Davy Crockett spots. Plan your visit with us by visiting our STAY and PLAY pages.  Not sure what you want to do, yet?  Request a vacation kit from us!  We look forward to seeing you soon.