Finding a place to retire requires many decisions, and discovering a place that fits both your price range and your lifestyle can be difficult. That's why we have all the need-to-know information on retiring to Jefferson County, TN right here!
OUR LIFESTYLE
Jefferson County has five incorporated cities, Jefferson City, Dandridge, White Pine, New Market, and Baneberry, each offering southern charm and pastoral scenery.  Retiring to one of our communities means spending your days visiting one of our many historic sites, golfing on one of our two great courses, or taking a trip with the family to one of our two beautiful lakes! 
Jefferson County is located in the heart of East Tennessee. Because it's an approximate 30 minute drive from both Knoxville and Sevierville, there is a wide variety of possible activities. Come live in the small town charm of Jefferson County and experience the many city benefits through our convenient location!
We are the  "Lakeside of the Smokies," as we neighbor the Great Smoky Mountains with two beautiful lakes. Both Cherokee and Douglas combined give Jefferson County 40.5 square miles of water area that are perfect for boating and world class fishing.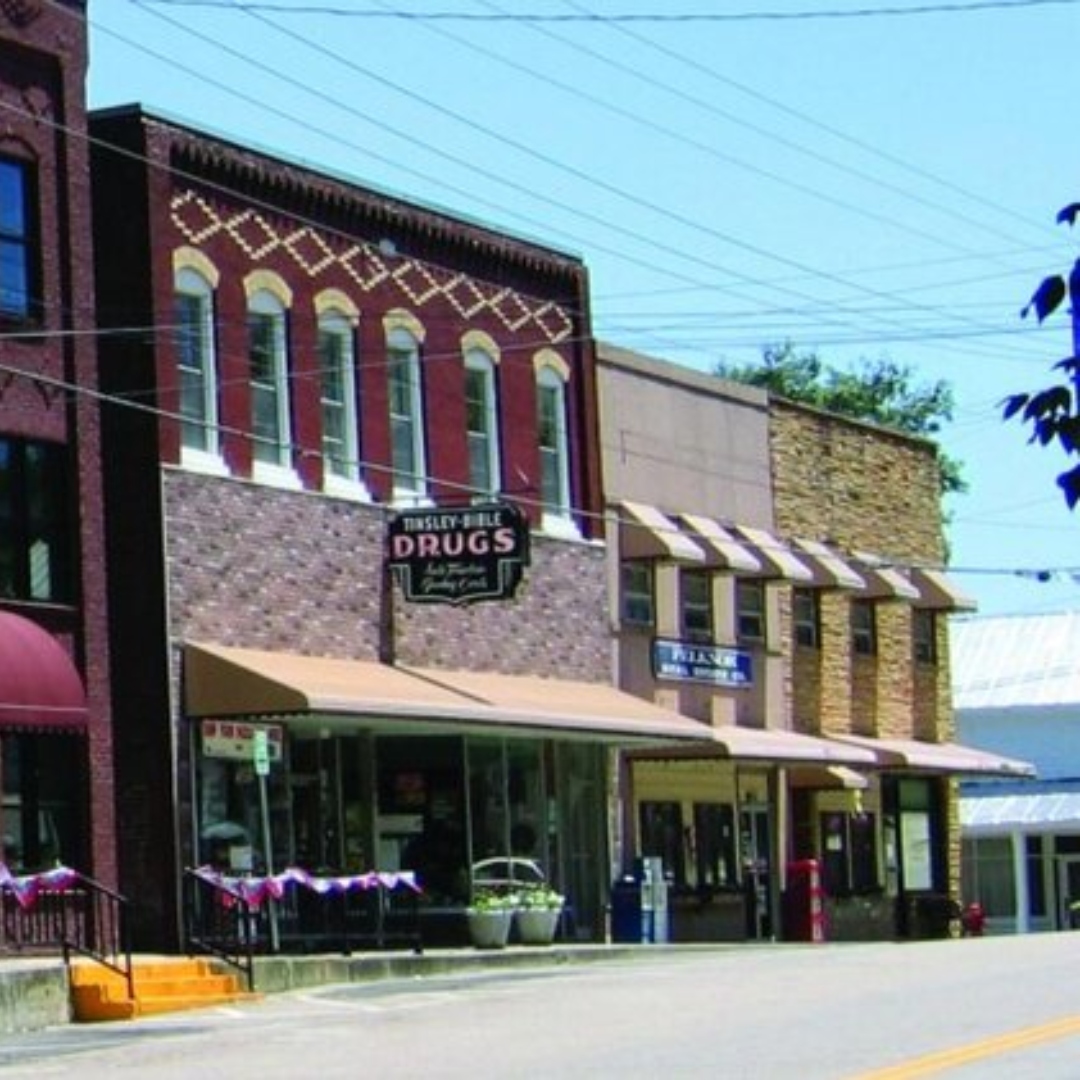 Jefferson County has a rich local history. It is the site of several Civil War battles including the Battle of Dandridge and the Battle of Mossy Creek. You can take a self-guided walking tour through Historic Downtown Dandridge where you can learn more about the events that took place during the war. Another important historic site is Glenmore Mansion in Jefferson City. Take a tour of this beautifully preserved home to learn more about life during the late nineteenth century. 
Another great way to send a day is on the links and Jefferson county has two beautiful courses, Patriot Hills and Dandridge Golf Club, that are perfect for novices and pros alike.  
These are just a few of the activities you'll discover in Jefferson County.  From local festivals, unique shopping experiences, and southern fare, you'll see why it's the perfect place to call home. Coming for a visit? Take advantage of our Discovery Tour and check out https://visitjeffersoncountytn.com  to plan your visit.
FINDING THE PERFECT HOME IN JEFFERSON COUNTY
We have houses that range in all prices from $119,900 to $799,900 in Jefferson County!
With our two lakes and close proximity to the Great Smoky Mountains, homes in Jefferson County have some of the best views in East Tennessee.
Lakeside homes allow you to go fishing any time you wish and are perfect for a fun family event. From quaint neighborhoods in our small towns to houses with lots of acreage, our realtors are waiting to help you discover your forever home in Jefferson County.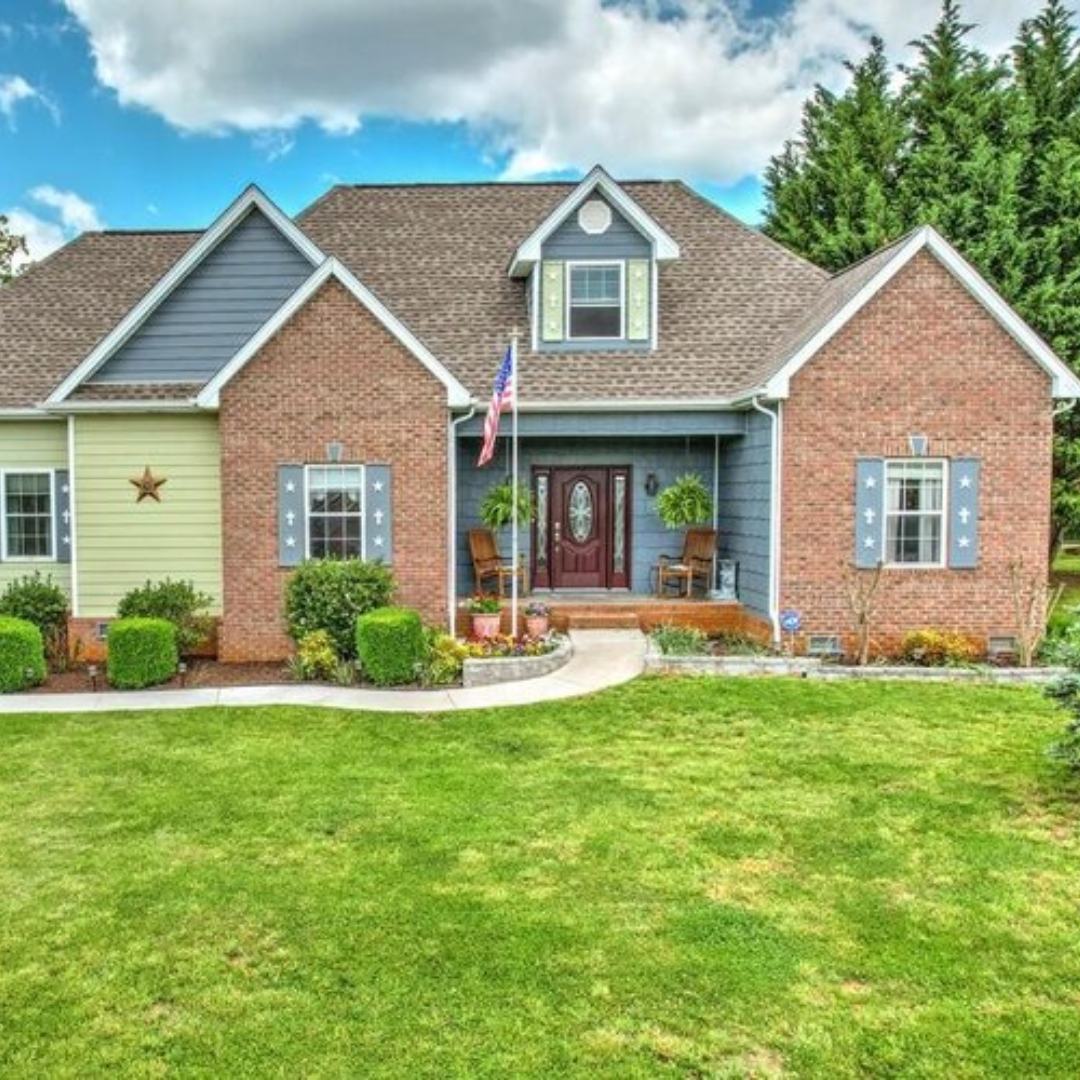 The median housing value in Tennessee is $167,200, while the median housing value in Jefferson County is $146,300.
This Jefferson County  house has three bedrooms and three bathrooms. The 3,164 square foot home and .65 acre lot is priced at $350,000 in New Market. Here at Jefferson County, we offer a wide variety of houses for you to find your next home!
Source: U.S. Census Bureau
JEFFERSON COUNTY'S PROPERTY TAX
Tennessee has no state property tax. This means property taxes are locally determined and collected.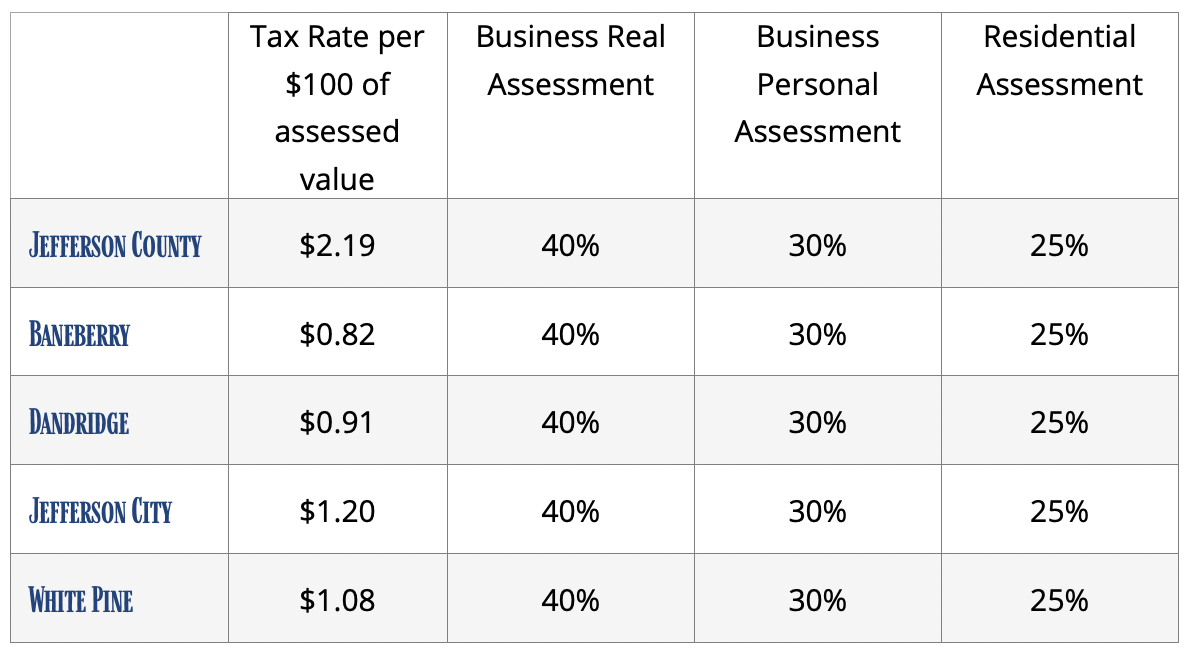 To calculate the tax on a property, multiply the ASSESSED VALUE (appraised value x assessment ratio found above) by the TAX RATE for your area. Residents within city limits pay both city and county tax.
Example: A home appraised at $100,000 in Jefferson County would pay $25,000 (Assessed value = the appraised value $100,000 x the residential assessment ratio of 25%) / 100 (property taxes paid per hundred of assessed value) x 2.19 (tax rate for Jefferson County) = $547.50 per year in county property taxes.
MORE ON TAXES 
The sales tax within Jefferson County is levied at 9.75% for all items not counted as food or food ingredients. This number accommodates the 2.75% county tax with the 7.00% state sales tax. Our food and food ingredients are taxed at 6.75%, which accommodates the 2.75% county tax and the 4% state sales tax.
There is no state or local income tax. As of January 1st, 2021 there is no tax on interest and dividends. Also, there is no tax on pensions. When you come to live  in Jefferson County, you will keep the money you have earned.
COST OF LIVING
Many of our essential items are much lower in cost compared to other states. Necessities such as health care, housing, and food and groceries are all below the national average. With a 10.3% lower cost of living than the national average, you may save more money in the long run. 
Check out https://www.tnvacation.com/retire-tennessee/cost-of-living to compare the cost of living in Jefferson County with other cities!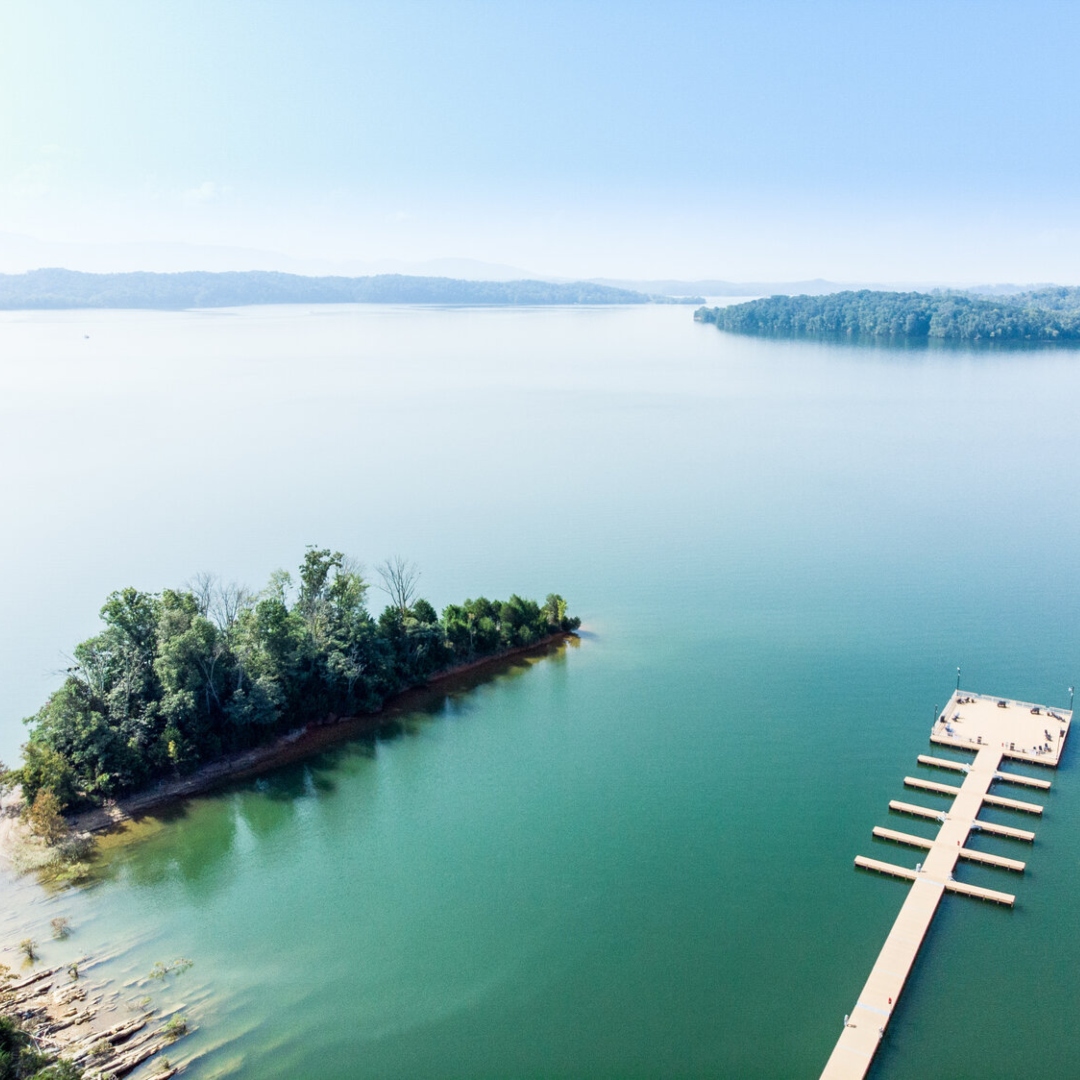 RETIRING TO THE LAKESIDE OF THE SMOKIES
Jefferson County has much to offer those looking to retire to TN. Whether you wish to spend your days enjoying nature or enjoying your time in the city, Jefferson County makes all these things possible with our convenient location. Come experience just how much Jefferson County's small town charm has to offer!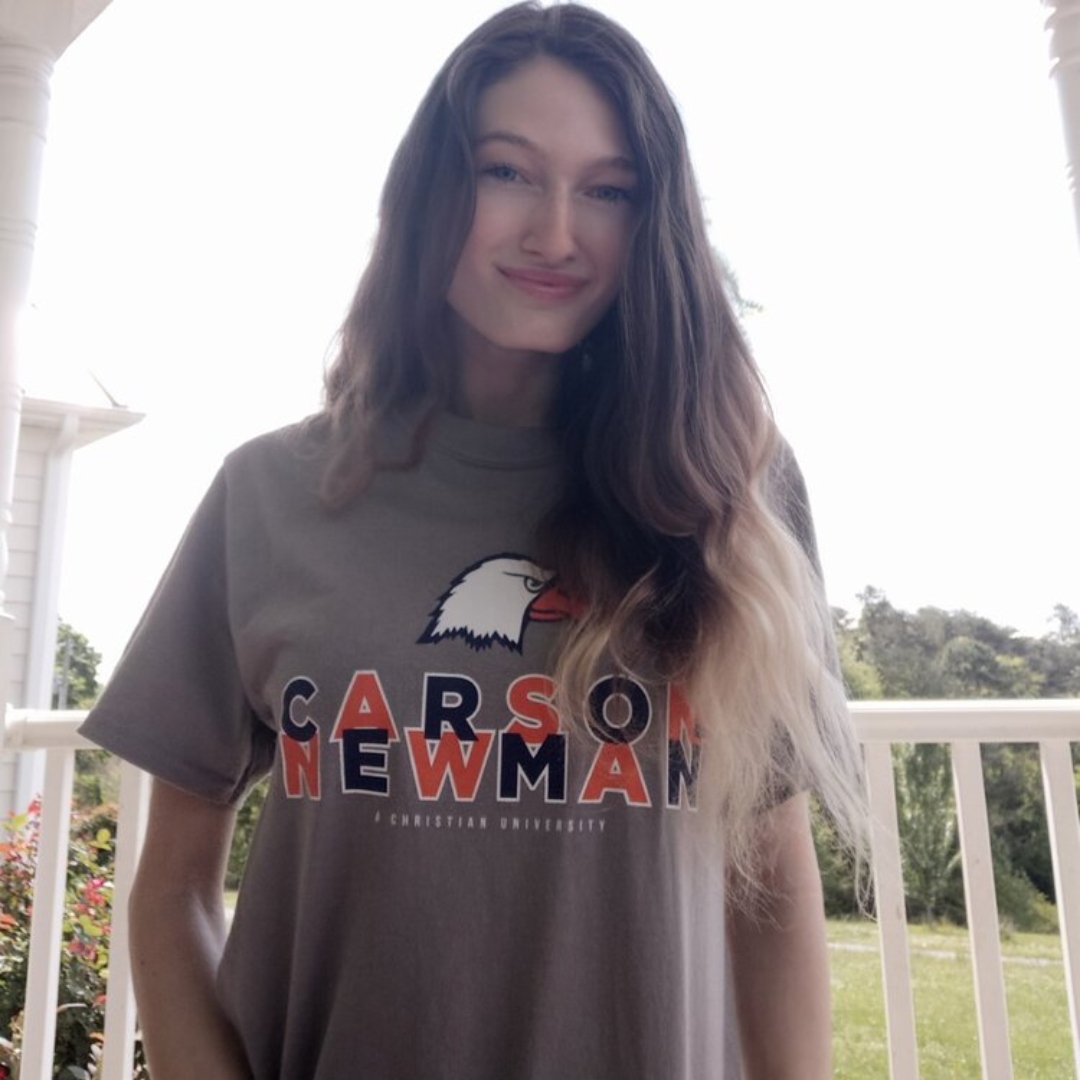 Author contribution by Leslie Osborne with the Jefferson County High School Service Learning Class, Capstone Project with the Jefferson County Department. of Tourism. Thank you, Leslie!