The beautiful landscape of East Tennessee is incredible year-round. The snow-capped peaks in winter, the wildflowers in spring, and vibrant life coming out of every corner during the summer makes our Southern Appalachian home such a special place.
But there's just something magical about the fall!
As the weather cools from the intense summer heat of August and locals start thinking about harvest time, the mountains put on a spectacular show. From the peaks of LeConte all the way to the lakes surrounding our home in Jefferson County, the trees become an incredible palette of orange, red, and yellow sprinkled with other colors as they transform the mountain landscape.
There's no better season and place for your Tennessee vacation than to experience autumn in Jefferson County. For your next trip, here are some can't miss drives, experiences, and destinations that will take your breath away.
Scenic Drives in the Foothills of the Great Smoky Mountains
Highway 92, Dandridge to Chestnut Hill, Tennessee
This is an easy drive to find, but it doesn't make it any less beautiful. From Interstate 40, take Exit 417 then take Highway 92 South toward Dandridge and Douglas Lake. The foothills of the Great Smoky Mountains will be sitting in front of you the entire way as you approach the charming city of Dandridge, the second oldest city in the state.  If you have time, stop and visit the unique shops and restaurants before continuing across Douglas Lake towards Chestnut Hill. This route is part of the TN Sunnyside Driving Trail, an early country trail that takes you along the paths of early settlers through the Appalachian mountains and foothills.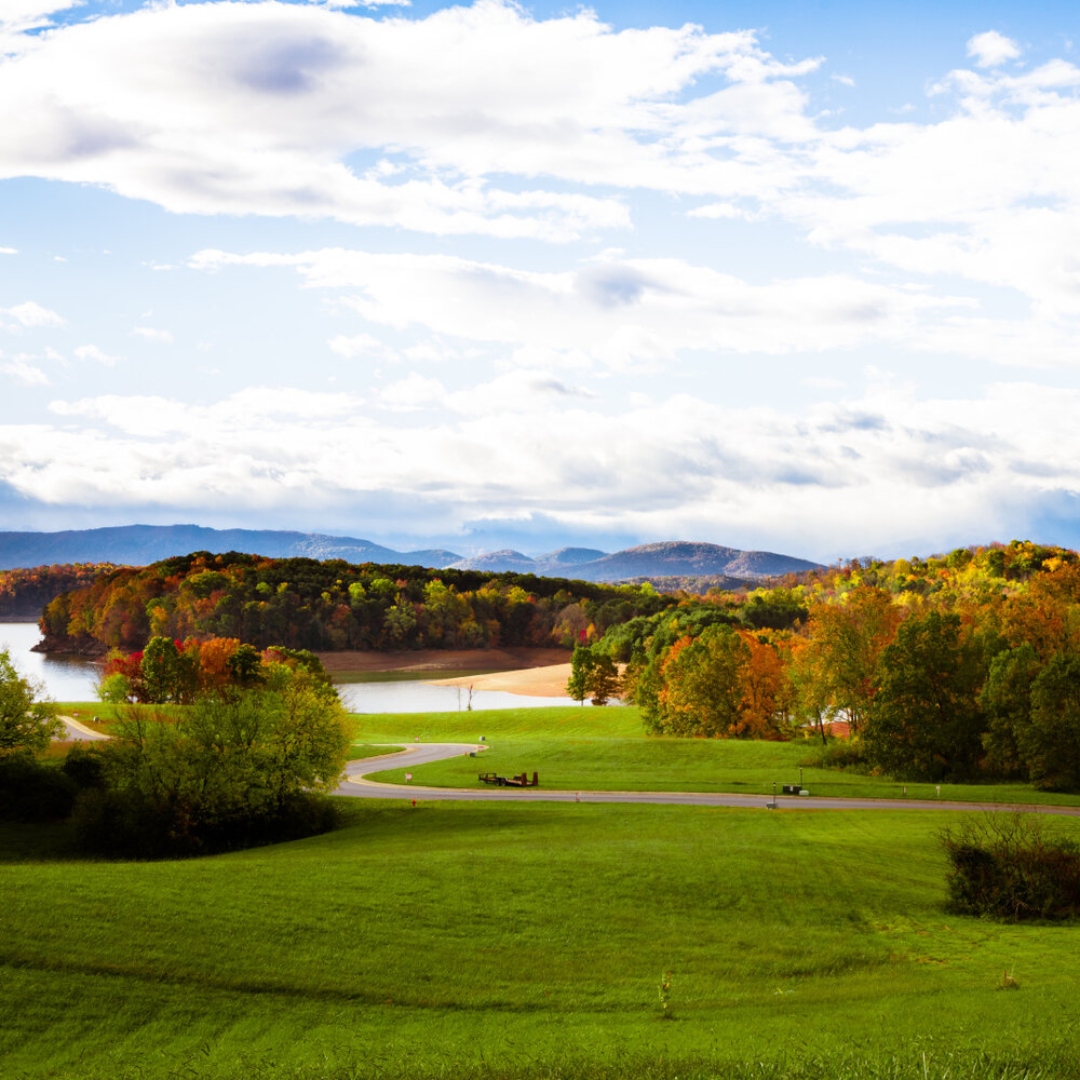 Hwy 139, Dandridge to Douglas Dam
This route will take you from the historic downtown along the shores of Douglas Lake. Meandering through rolling countryside, fall colors will be everywhere you look, including a great view of a sweeping vista of the Great Smoky Mountains, including Mount LeConte.
As you turn onto Douglas Dam Road, there will be signs pointing you to Douglas Dam and the Douglas Lake Tailwater Recreational Park where there is hiking, birding and much more!
Loop through White Pine, Tennessee
This is a beautiful route through the countryside of East Tennessee along the Tennessee White Lightning Trail takes travelers along some of the very same routes that moonshiners and rum runners used during the prohibition era.
Take the 424 Exit off of Interstate 40 towards White Pine, TN.  As you come into the town stop by for a slice of White Pine Pizza (the Godfather Pizza is our favorite), and visit the town's unique local shops including the White Pine Book Store that has thousands of new and used books! From White Pine, you'll take Roy Messer Hwy towards Interstate 81 for just a few miles before taking CH Rankin Road.  This scenic road will take you back to I-40 at exit 417 and has incredible views of English Mountain and beautiful farm country.
East Tennessee Must-Dos for the Fall
Panther Creek State Park
Panther Creek State Park shines in the autumn. Easily accessible from Highway 11E, Panther Creek sits just north of Jefferson County and offers a wide range of experiences. From hiking to horseback riding to fishing, this stunning 1,444 acre park sits on the Cherokee Reservoir in the historic Holston River Valley.
Douglas Lake in Dandridge, TN
Douglas Lake truly gives Jefferson County its "Lakeside of the Smokies" name. This enormous body of water covers over 44 square miles with some of the most pristine views of the changing fall colors covering the Great Smoky Mountains. It's best to enjoy the scenery by boat, so use your own or rent one from one of the many marinas along the lake.
Great Smoky Mountains National Park
Less than an hour drive from Jefferson County is the most visited national park in the country and a can't miss destination on your Tennessee vacation list. The Great Smoky Mountains National Park is spectacular year-round but is most beautiful during the autumn months. The leaves begin to change in late September and early October in the higher elevations, then work their way down into the valley as the season wears on.
From Jefferson County, your best bet for views is the Mount Cammerer trail, which has a lookout tower topping its nearly 5,000 ft. peak with 360 degree views. It's a challenging hike though, so plan ahead.
Carson-Newman University Campus
This private, liberal arts college has been a cornerstone in Jefferson City since 1851, and the campus is a stunning site during the fall season. Along with the sound of football games, homecoming, and everything else we love about the fall semester on a college campus, Carson-Newman is covered with incredible trees that have stood among the halls for generations. A visit to campus may seem out of place on your list of things to do in East Tennessee, but don't miss this hidden gem and its beautiful trees.
Best Places to Stay in East Tennessee
Mountain Harbor Inn Resort on the Lake
Imagine waking up every day of your Tennessee vacation to see the glistening lake sitting in the foothills of the mountains draped in fall colors. That's what a stay at the Mountain Harbor Inn Resort on the Lake will give you and the special someone in your life. Every suite at the Mountain Harbor Inn includes a romantic sunset cruise, an intimate candlelight dessert and a breakfast buffet that's second to none.
Anchor Down RV Resort
Ready to take your RV to a resort that has everything you need for a Tennessee lake vacation? Anchor Down RV Resort is your destination. With lakefront and lake view sites, Anchor Down offers guests a wide range of luxurious amenities, like fire pits, concrete pads, paved streets, full hookups, free Wi-Fi, a bathhouse with private bathrooms, and even a swimming pool with a water slide. Anchor down also has a boat ramp, a fishing trail and pier, and golf cart rentals for easier transportation around the resort.
Cherokee Dam
Managed by the Tennessee Valley Authority on the banks of Cherokee Lake, the Cherokee Dam Campground offers both RV and tent camping options to give you the best outdoor experience for you and your family. The campground has a total of 44 campsites, and all campsites are equipped with water and electric, except for the five primitive tent-only sites near the lake. And in the center of the campground, two bathhouses are equipped with hot showers and flushing toilets.
There are several recreational opportunities near the campground, including swimming, boating, and hiking. An easy Cherokee Cross Country Trail provides spectacular views of the fall colors in the foliage surrounding Cherokee lake and Cherokee Dam.
East Tennessee Fall Vacation Location
Whether you love a day on the water, a day in the mountains, or a drive to interesting shops and great restaurants, a fall vacation in Jefferson County has everything you need to experience the best the season has to offer. If enjoying the beauty of East Tennessee this autumn sounds like the perfect getaway, visit our EAT, PLAY, STAY, or SHOP sections, or request a vacation packet and we'll mail you our travel guide. We hope to see you soon!