The most wonderful time of the year has arrived in Jefferson County, TN! There are so many holiday events and fun winter activities happening throughout the season that are sure to bring cheer to you & yours.  We know that at Christmas, all roads lead home, and whether you are visiting the area for the holiday season or just want to get into the holiday spirit—Jefferson County has something for everyone in your family.  
Shop Small Business Saturday
Saturday, November 25, 2023
ALL DAY!  
All throughout Jefferson County! 
Shop Local. Give Local. When you shop local in Jefferson County, TN, you are supporting friends, family, and neighbors. Small businesses create community jobs, boost local economies, and enhance our area in so many ways. Our community is fortunate to have several wonderful locally owned shops where you are guaranteed to find that Christmas gift you've been looking for!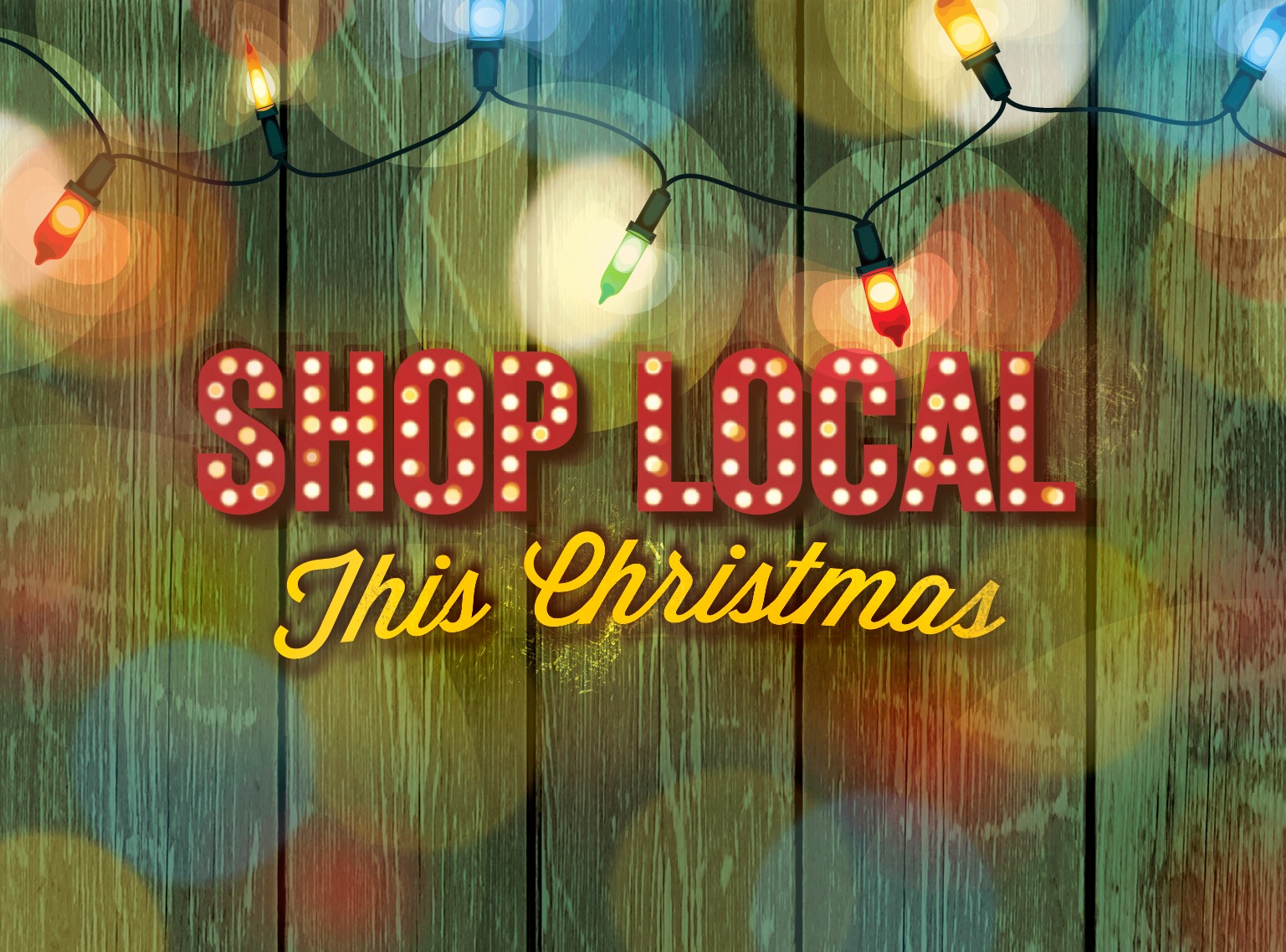 Merriment on Main
https://www.facebook.com/christmasinhistoricdandridge  
Saturday, November 25, 2023 
10:00 AM – 2:00 PM 
Dandridge, TN 37725 
Kick off the Holiday Season in Historic Dandridge for the Annual Merriment on Main Street Event and Small Business Saturday. Santa Claus will be in town to read a fun story with very special guests, Christmas Llama's. Other activities will be happening throughout the town including ornament crafts to help decorate the town's Christmas Tree, face painting, vendors and holiday shopping specials, as well as FREE Christmas photos!  
 More information can be found on the Christmas in Historic Dandridge Facebook page HERE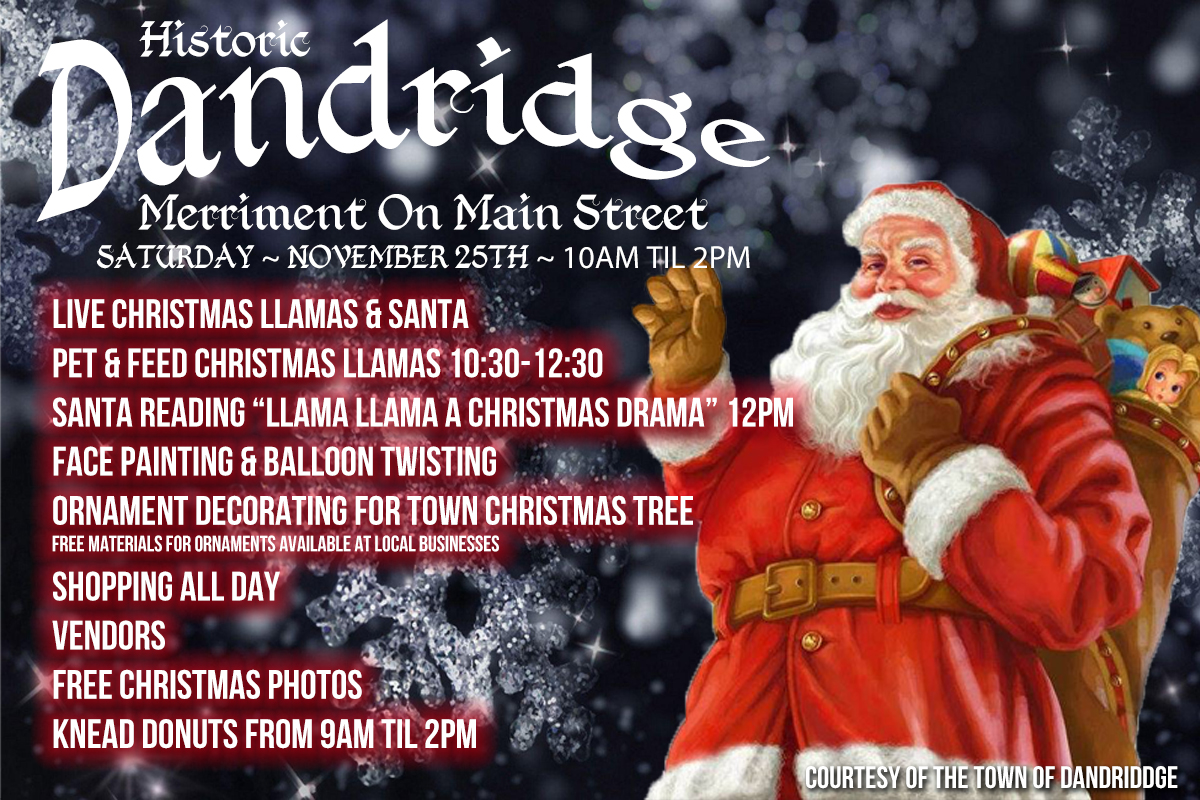 Reindeer 1 Mile Run/Walk
Saturday, December 2, 2023, at 10am
Registration 9am at Maury Middle School 
What a great way to get moving on a Saturday. The city of Dandridge is hosting the Reindeer 1 Mile Run/Walk. All proceeds from this run will Benefit Shop with a Cop that so many local children enjoy every year! Plus, the first 100 participants get a free pair of antlers! For additional information reach out to Kristin Depew, (865) 566-8656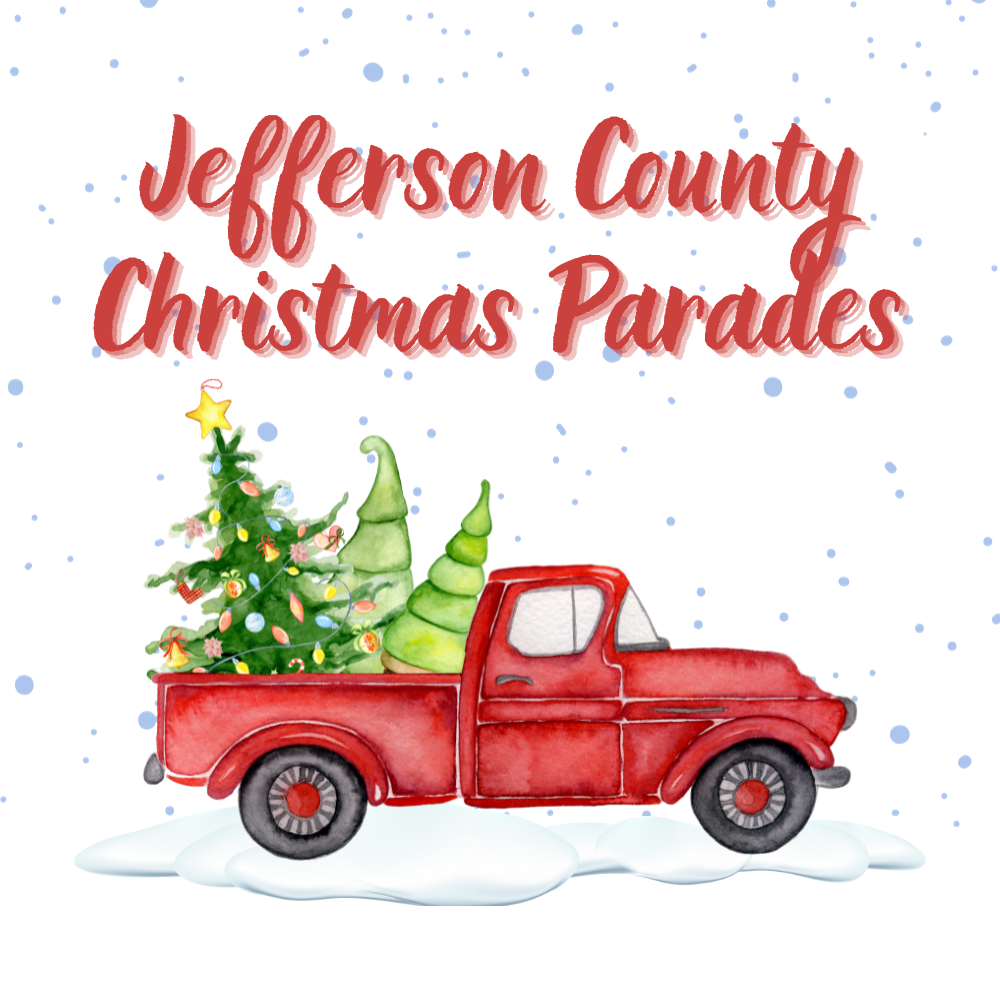 Local Christmas Parades
We are so lucky to have several different local Christmas Parades this year. For more information on each parade, click HERE. We are excited to see all our communities participating in these parades and enjoying the holiday festivities.
Glenmore Mansion Christmas Tours
https://www.facebook.com/GlenmoreMansion
December 1st, 2nd, & 3rd– 5pm-8:30pm 
December 8th, 9th & 10th – 5pm-8:30pm 
Tickets Prices: Adults: $10, School Aged Children: $5, Preschool Aged Children: Free 
1280 North Chucky Pike Jefferson City, TN 37760  
No reservations are necessary. Purchase tickets at the front porch. Groups admitted every 15 minutes with the last tour entering at 8:30pm.  
While regular tours of the historic Glenmore Mansion end in October, the Victorian treasure in the heart of Jefferson City is open for just a handful of days during December for its famous Christmas tours. Come and tour this marvelous wonder in its holiday glory during the day, or in the evening for an extra special candlelight tour!  
Knoxville Symphony Orchestra at Jefferson County High School
Friday, December 1st 
7:00 PM – 9:00 PM 
3901 US-411, Dandridge, TN 37725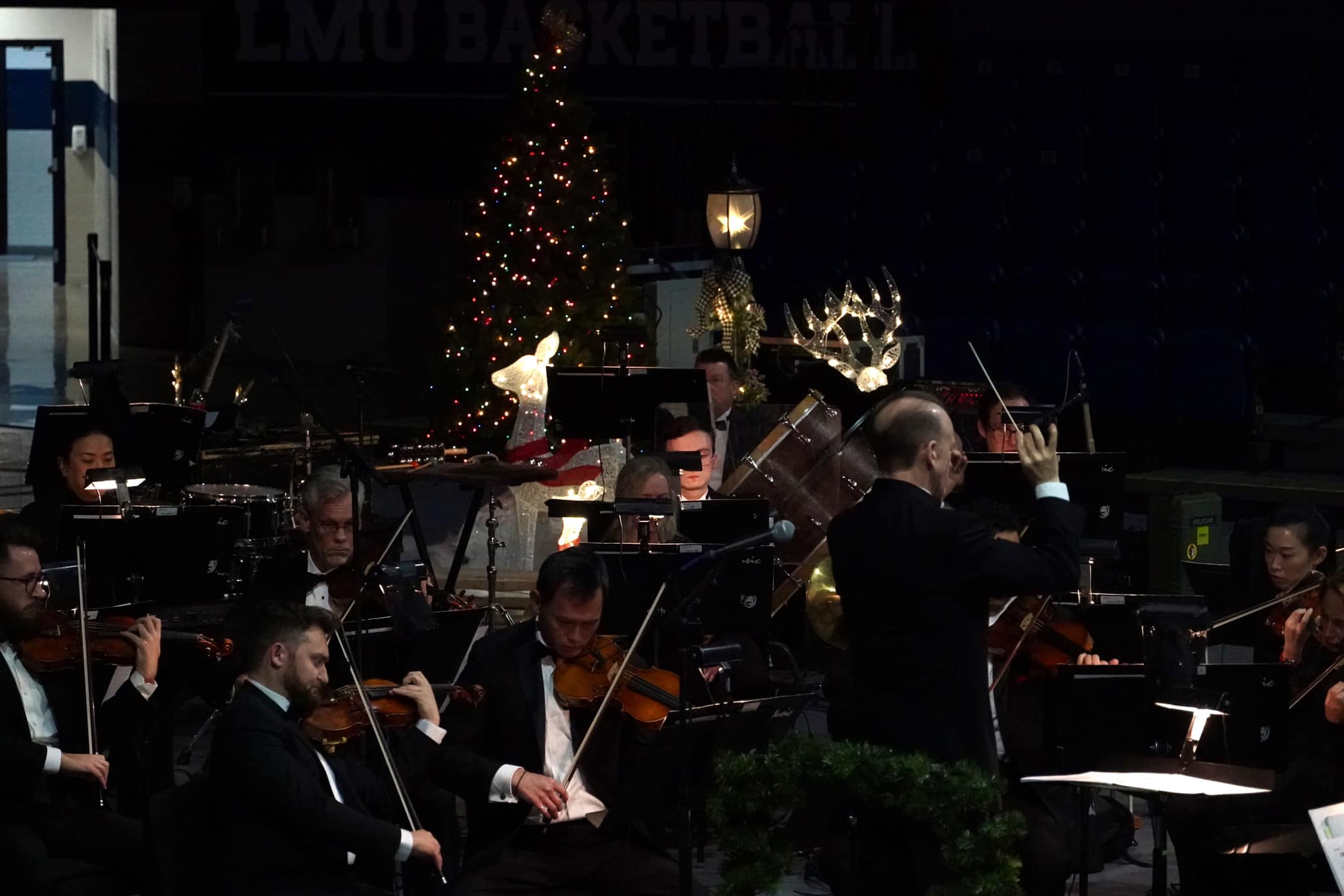 Once again, the Knoxville Symphony Orchestra brings the sounds of the season to Jefferson County, this year, performing at the Jefferson County High School's Performing Arts Center.    
Tickets can be purchased locally at H.B Jarnagin Insurance, Martha's Market, Ooh Lala Boutique, Owens Restaurant, Tinsley Bible Drugs, and the Shoppes at Roper Mansion.  Proceeds benefit the Dandridge Ministerial Association and Food Pantry. Come experience a magical night of music and support our local community.  
For more information click here to visit the KSO on the road events page.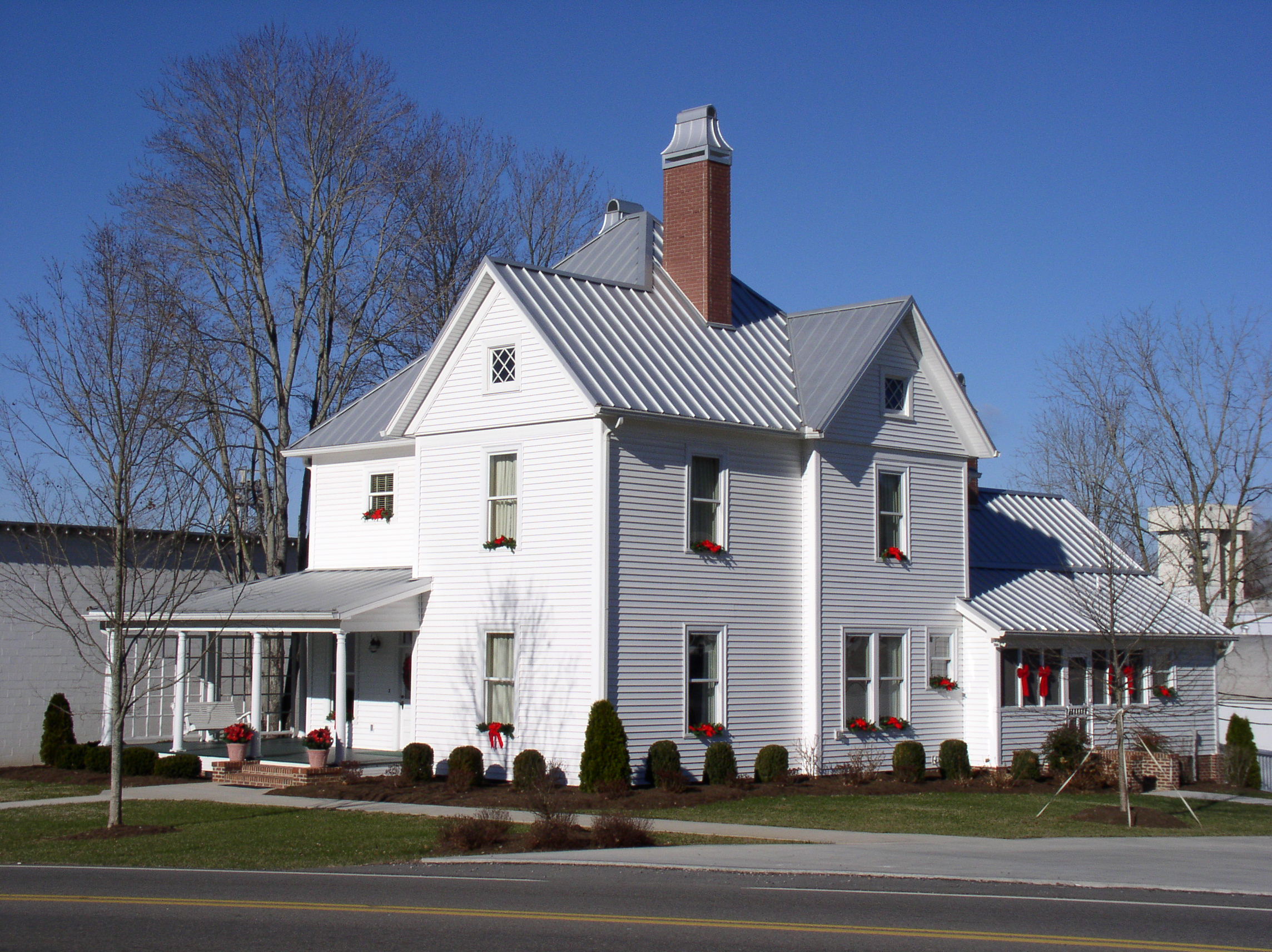 AJ & Sallie Bush Homeplace Christmas Open House
Tuesday, December 12 thru Wednesday, December 20, 2023 (Closed Sunday) 
11:00 AM – 2:00 PM 
3901 US-411, Dandridge, TN 37725  
For a little bit of history and a whole lot of holiday merriment, come join us at the Bush Visitors Center for lunch and a step back in time with a tour of the very special AJ & Sallie Bush Homeplace. The Christmas home tour offers a look into a gem of Tennessee culture dressed in lush garland and winter finery.  
Historic Dandridge Cookie Crawl
Saturday, December 9, 2023 
10:00 AM – 5:00 PM 
Historic District, Dandridge 37725  
What's better than a fresh batch of Christmas cookies? An entire day of cookies from some of the finest eateries in Jefferson County of course! Come sample a variety of cookie recipes from the shops in historic downtown Dandridge. Complete the entire cookie crawl and you'll be entered into a drawing to win a massive cookie basket that would make a great gift or look fantastic on your holiday desert table.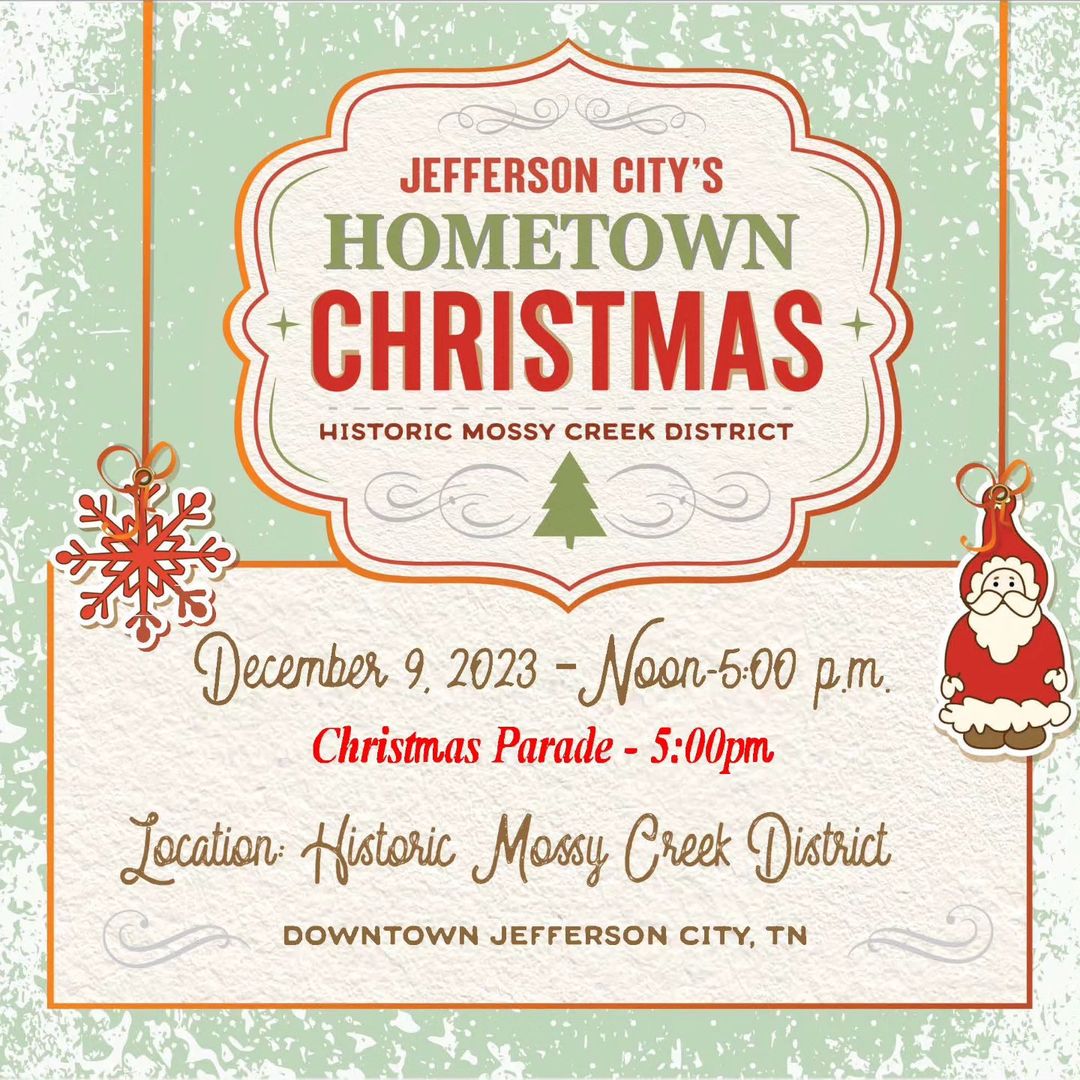 Jefferson City's Hometown Christmas
Saturday, December 9, 2023 
12pm-5pm 
711 East Main St., Jefferson City, TN, 37760  
The Historic Mossy Creek District is home to Jefferson City's Hometown Christmas Holiday Market again this year and is truly one of Jefferson County's most distinct and festive holiday shopping experiences. This one-day shopping event located at The Vault on Jefferson City's Main Street offers truly unique gifts from local artist-vendors. Afterwards, stick around for Jefferson City's Hometown Christmas Light the Night. The parade will begin at 5:00 PM, and the floats and participants will sparkle with holiday lights and glow-in-the-dark designs. It will be an entire day filled with family fun and holiday cheer! 
Visit HERE to learn more about the parade or follow the Mossy Creek District Facebook Page. 
Historic Dandridge Candlelight Shopping & Carriage Rides 
Saturday December 9, 2023 
Saturday, December 16, 2023 
5:30 PM – 7:30 PM 
Historic District, Dandridge 37725  
Explore the shops of the historic district in Dandridge by candlelight. These holiday open houses will feature holiday treats and specials where you'll be sure to find everything on your Christmas shopping list.   Also, enjoy carriage rides provided by the Town of Dandridge to take in the lights and sights of the season in this picturesque town!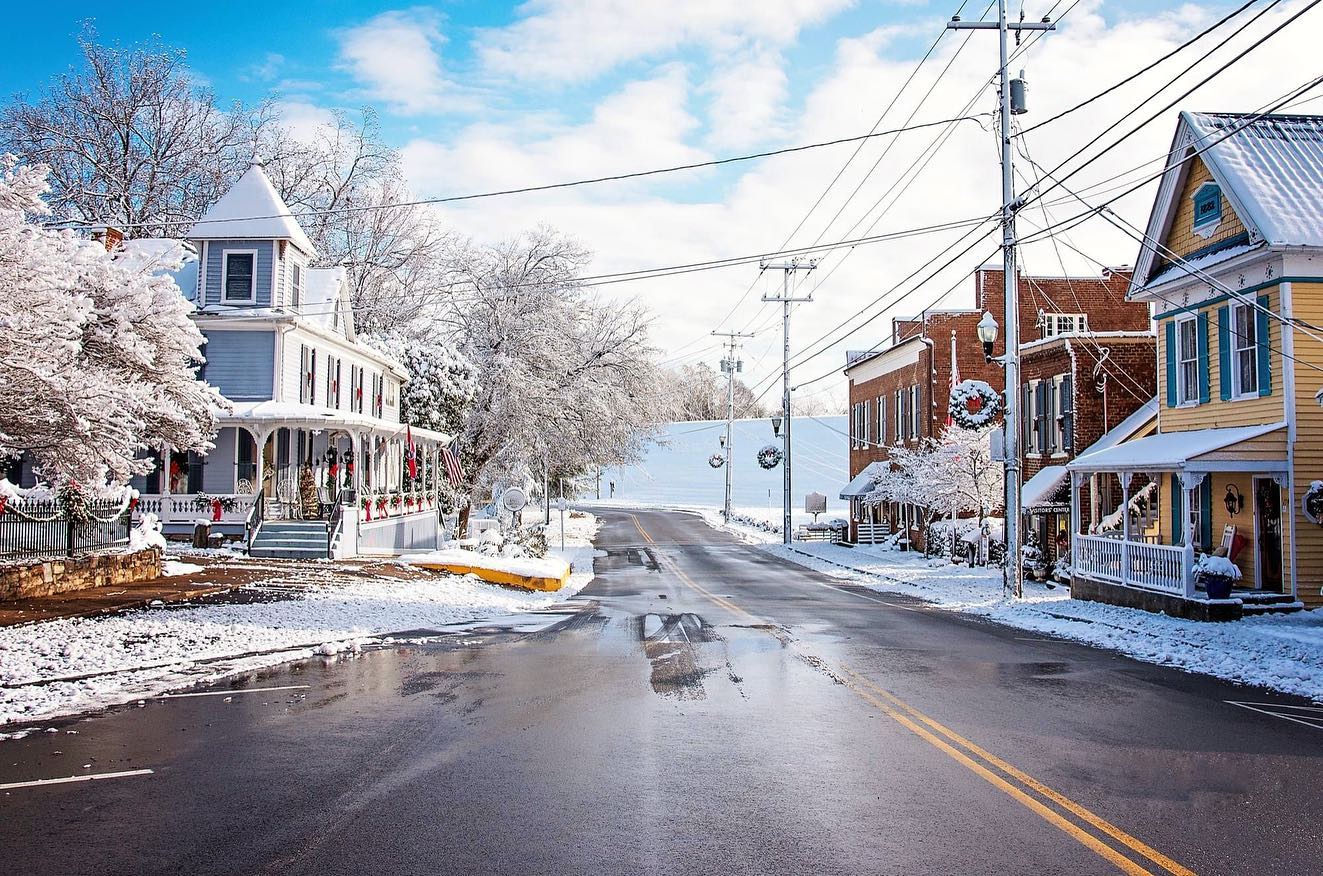 Holiday Season in Jefferson County
As you can see there is no shortage of festive activities and events for the whole family to enjoy this holiday season. Whether you have lived here for years or are planning a holiday getaway, we welcome you to eat, play, stay, shop, and enjoy all Jefferson County and Lakeside of the Smokies has to offer.