Every season is beautiful in the Lakeside of the Smokies, but for a few months each year the Smoky Mountains, sparkling lakes, and hilly East TN landscape are illuminated by the bright reds, yellows, and oranges of fall, creating a landscape that is truly breathtaking. Fall in the Lakeside of the Smokies is like a magnificent work of art that sprawls for miles and miles. So, what's the best way to take it all in? You can go hiking, camping, or get outside for a fall event. However, if you want to cover the most ground and soak in the most Fall beauty in one day, we suggest you hop in the car.  
We put together a fall driving tour guide that will take you through the prettiest stretches of road, to the can't miss overlooks, and scenic Smoky Mountain views. This fall driving tour through the Lakeside of the Smokies can be a serene solo activity, unique fall date, or a fun way to spend quality time with friends or family. The fall views are amazing, but they aren't the only thing that makes East Tennessee special. We added a few "pit stops", places where you should consider stopping during your journey, to get the full Lakeside of the Smokies experience. 
Start on the East Tennessee Crossing By-Way (25E) and head toward White Pine, TN
Start South of Douglas Lake and hop on the East TN Crossing By-Way (25) and head toward White Pine. Nicknamed the Tennessee Wilderness Road, the East Tennessee Crossing By-Way stretches from the North Carolina border to the Kentucky border, showing off the natural beauty of East Tennessee.  
View of Douglas Lake
You'll drive across Walters Bridge and take in the first lake view of the tour on your way to White Pine. As you cross Douglas Lake you'll see riverbanks covered in colorful trees, sparkling water, and the Smoky Mountains on the horizon.  
Bird Watching at Rankin Bottoms
If you'd like to add some casual bird watching to the itinerary, take a quick 2.5-mile detour from Walters Bridge to Rankin Bottoms. Rankin Bottoms Wildlife Management Area is over 1,000 acres of lowlands, islands, and shallows with an abundant bird population that includes Great Blue Herons, Great Egrets, various species of Sandpipers, and many more! Take in the area from your car via the Rankin Bridge or park and explore. 
Continue on the East TN Crossing By-Way toward White Pine, TN. 
Explore White Pine
Once you reach the town of White Pine, we encourage you to walk around and explore. One shop you shouldn't miss is White Pine Books located on Main Street in downtown White Pine. This charming shop sells books, movies, CDs, puzzles, vinyl, and more!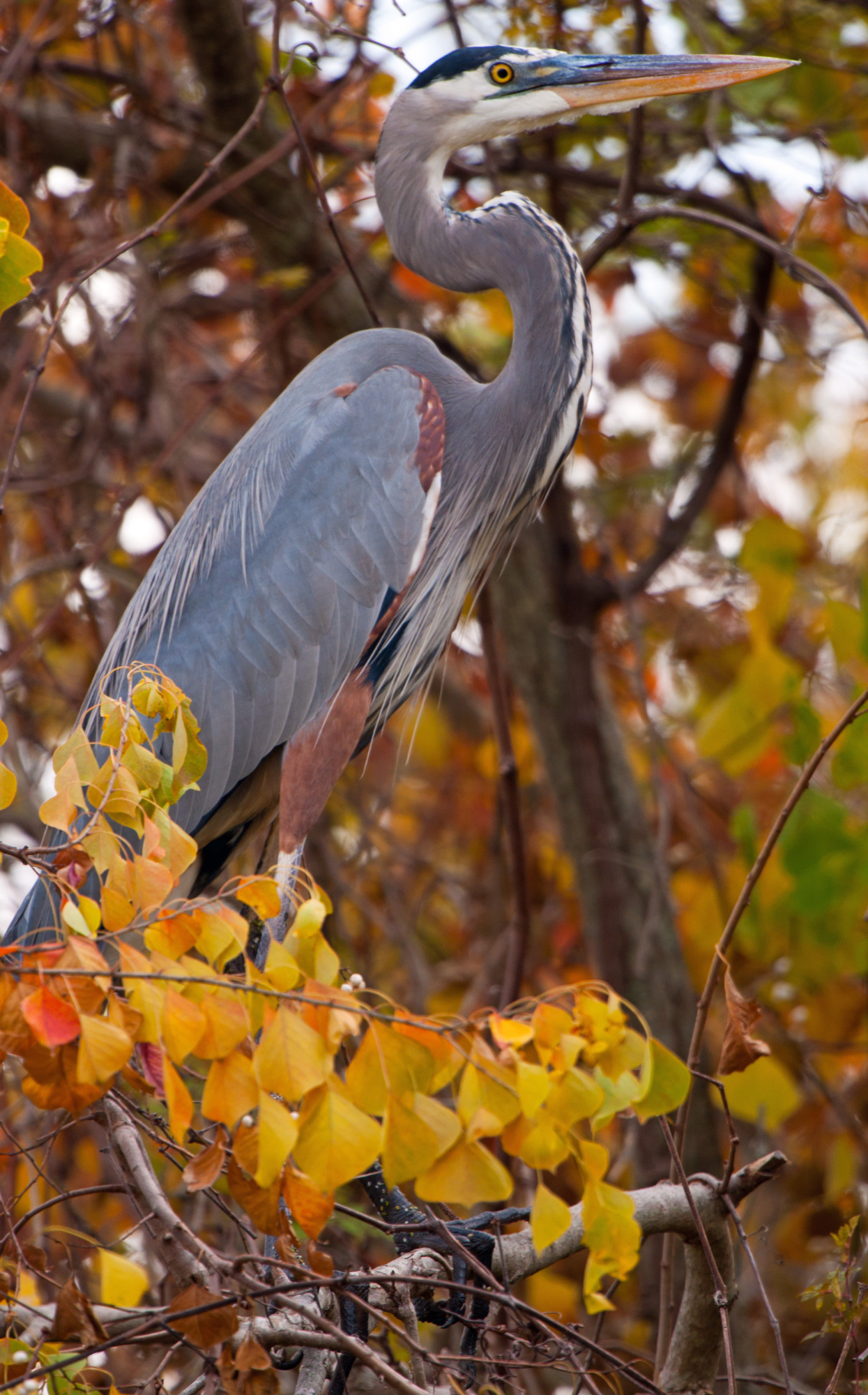 Head South on Highway 113 to Dandridge
As you travel South from White Pine to Dandridge, you'll be surrounded by rolling hills, farms, and luscious forest. You'll see several great views of Douglas Lake and the Smoky Mountains on the horizon. 
Fall Vibes in Historic Downtown Dandridge
If you want to feel like you're stepping into a fall Hallmark movie set in a small town, you'll be excited to see downtown Dandridge, TN. Stroll around downtown, explore shops and restaurants, and learn about the history of Tennessee's second oldest town while you're passing through. 
Mountain Views and Fishing on Douglas Lake
The next stop on our scenic driving tour is Dandridge Dock. From downtown Dandridge travel South on Chestnut Hill Rd, across the bridge, and take a right on Public Dr when you reach the other side. At the end of the road, you'll find Dandridge Dock. Get out of the car, breathe in the mountain air, and take a stroll out the end of the dock. Soak in the natural beauty of East TN from a new perspective—suspended over the sparkling blue water of Douglas Lake with the hills and mountains rising above you. The Lakeside of the Smokies is one of the most popular fishing destinations in the Southeast. If you want to try your luck on Douglas Lake, bring your fishing gear along.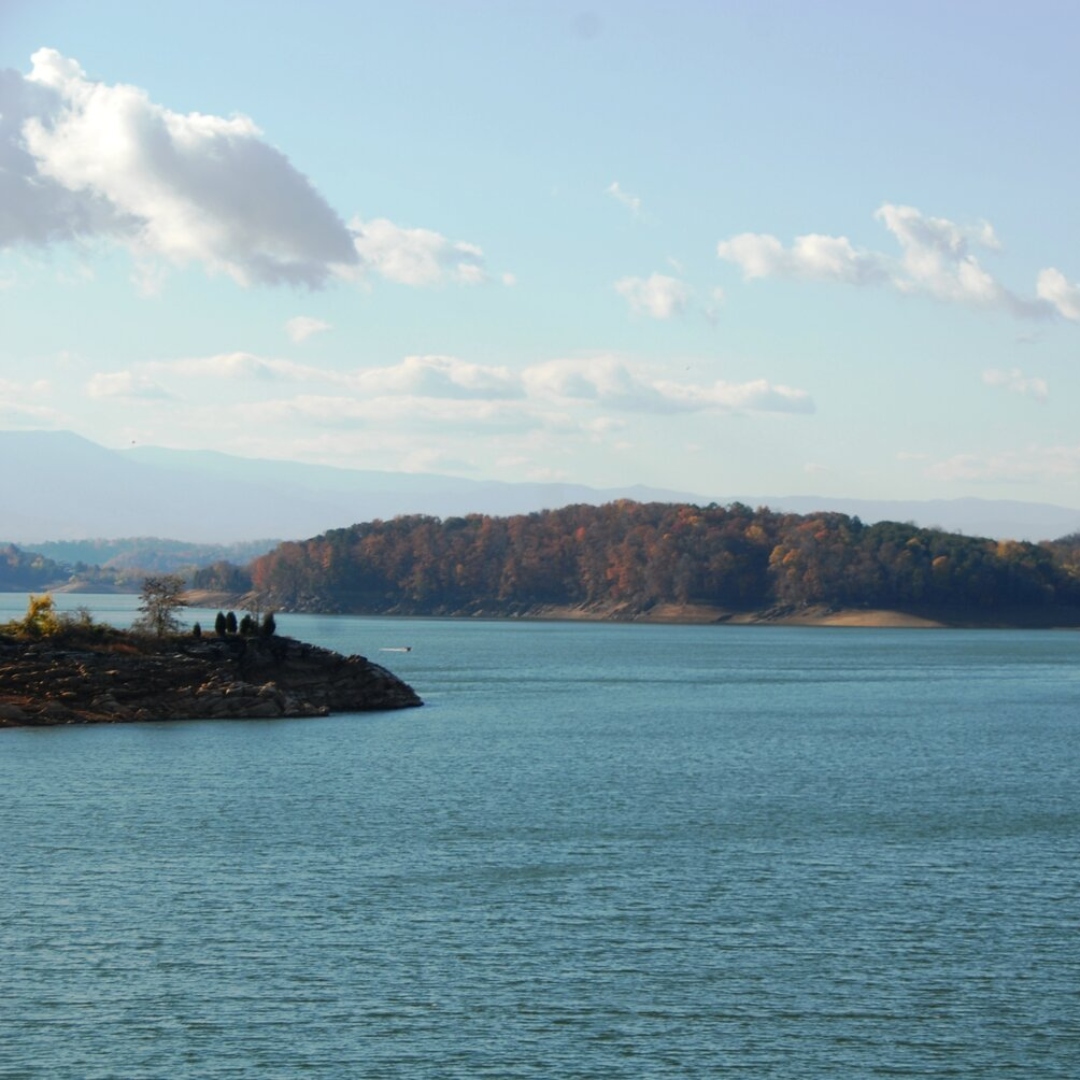 Travel 139 to Deep Springs toward 25W
Head back across the bridge and take State Route 139 toward Deep Springs Road. 139 follows the edge of Douglas Lake and shows spectacular views of the Smoky Mountains.  
Stop or Stay at a Lakefront RV Resort
Continue past the Deep Springs turn for a short distance and you'll find Anchor Down RV Resort. This luxury RV resort has stunning views, lakefront campsites, a pool, sports and recreation areas. If you want to enjoy fall in the Lakeside of the Smokies for more than just a day, Anchor Down is a great place to spend the weekend. 
Hop on Deep Springs Road toward 25W to continue the tour. 
25W to Piedmont Road to 11 East to New Market 
Take 25W, turn right on 11E, and head East toward New Market.  
Bays Mountain is a ridge and mountain range that runs from Knoxville to Southern Virginia, cutting through Jefferson County. Your journey through the Bay Mountain area starts at the Piedmont General Store, a beloved little restaurant and shop that has been around for over 100 years. This stretch of the tour consists of green pastures, mountain roads weaving through ancient Appalachian woods, and Bay Mountain views. 
A Picturesque Drive with Rich History
As you're cruising down 11E enjoying the scenery, we challenge you to imagine what it looked like throughout history. Highway 11E has an interesting history. Native American trails existed in its place before European settlers came to the area. It later became part of the Great Wagon Road, a path used by early explorers and settlers in the region.   
New Market to Jefferson City
Turn off 11E onto Old Andrew Johnson Highway until you reach Jefferson City. There are tons of things to do in Jefferson City and the surrounding areas.
Tour Carson Newman University
Jefferson City is home to Carson-Newman University, a Christian liberal arts school with a picturesque campus. Fall is the prettiest time of the year at CNU. Whether you have a potential future student along for the ride or just want to see another beautiful spot in East TN, you can sign up for a tour or explore campus on your own.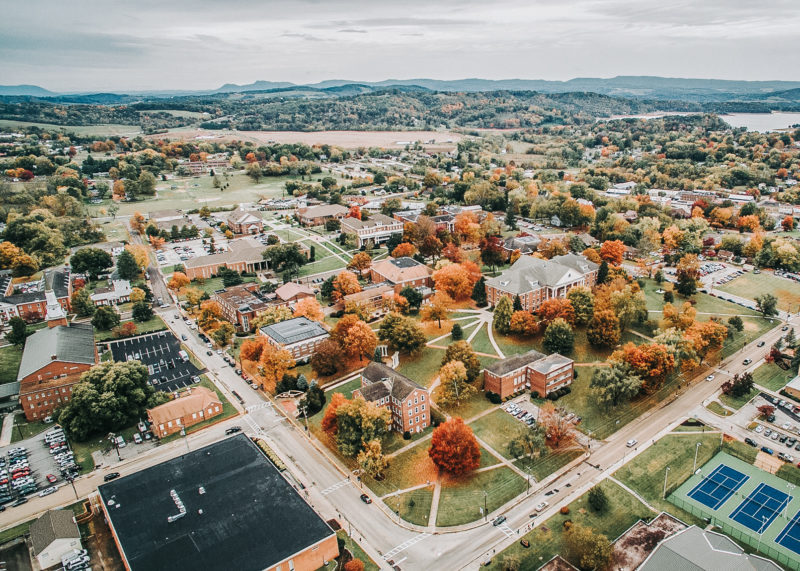 Shop and Explore in Mossy Creek
As you're nearing the end of your journey, it's a great time to do some shopping or grab a souvenir! You'll find all kinds of stores, selling things you won't find anywhere else, in Jefferson City's downtown shopping area—Mossy Creek.
Stop for a Drink at Mossback Distilling Co.
There's nothing like a cold drink at the end of a long journey. Located in the heart of downtown Jefferson City, Mossback Distilling Co. distills delicious spirits that are available for purchase. They also serve craft cocktails at their onsite tasting house, The Battery.
Experience Fall on the Farm
Agriculture is part of the beauty and culture in Jefferson County. About a mile outside of town you'll find Echo Valley Farm, a family-owned business that was established in 1896. Each fall, they create impressive corn mazes shaped like farm animals, cowboys, etc. The Echo Valley Corn maze also has a pumpkin patch, petting zoo, hayrides, and a playground, so it's a great stop if you're bringing kids along for the ride. You'll get a taste of farm life and enjoy views of the countryside.
See Wildlife on Cherokee Lake
If you want to see more wildlife and check out the other gorgeous lake in Jefferson County, take the short drive up Bethel Church Rd to the Mossy Creek Wildlife Viewing Area. Where Mossy Creek feeds into Cherokee Lake, you'll find this lowlands wildlife preserve. Take a stroll across the wooden pedestrian bridge and keep your eye out for birds, beavers, otters, turtles, and muskrats.
Jefferson City to 417 (I-40)
Head back towards I-40 (Exit 417). Sure, you're headed back to the main drag at this point but there's still scenery to enjoy and places worth stopping along the way.
A Golf Course with Smoky Mountain Views
Stretch your legs, take in the view, or hit the course at Patriot Hills Golf Club. Patriot Hills is one of the best public golf courses in East TN with luscious fairways, well-maintained greens, and Smoky Mountain views. Book a tee time!
A Southern Feast to Finish the Day
After a long day of chasing the best Smoky Mountain views and exploring the Lakeside of the Smokies, you'll be hungry. Right before you reach I-40, stop by Taste of Dandridge for a quick bite. Your East Tennessee tour would not be complete without some good southern cookin' and this local gem is guaranteed to be the gravy on top of a great day.
Explore the Lakeside of the Smokies this Fall
We hope we have inspired you to visit the Lakeside of the Smokies this fall. Between the breathtaking views of the Smoky Mountains, lush colorful trees, and perfect weather, fall in East Tennessee is truly magical. Whether it's for an afternoon, a day, a weekend getaway, or a camping trip, the Lakeside of the Smokies will welcome you with southern hospitality, great food, unique shopping, activities and events for all ages.